'Had no idea Shami did it...': Rohit reveals why India withdrew run-out appeal against Shanaka in final over of 1st ODI
Jan 11, 2023 07:16 AM IST
Indian skipper Rohit Sharma has revealed why the hosts refused to run-out Sri Lanka captain Dasun Shanaka at the non-striker's end during the final over bowled by Mohammed Shami. Riding on Virat Kohli's 45th ODI century, Rohit-led Team India outclassed Sri Lanka by 67 runs in the series opener at Barsapara Cricket Stadium on Tuesday.
Indian skipper Rohit Sharma played a crucial role in allowing his Sri Lankan counterpart Dasun Shanaka to complete his memorable century against a Virat Kohli-inspired Team India at the Barsapara Cricket Stadium in Guwahati on Tuesday. Kickstarting its dress rehearsals for the 2023 edition of the ICC World Cup, two-time champions India squared off against Shanaka-led Sri Lanka in the first One Day International (ODI) of the three-match series at Guwahati.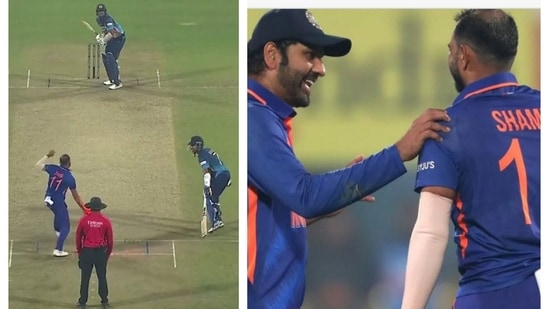 Thanks to Rohit, Gill, and Kohli's sublime knocks, Shanaka-led Sri Lanka were left with a mountain to climb in the high-scoring contest at Barsapara Cricket Stadium. Leading the fightback of the crestfallen visitors, in-form Shanaka played a gem of a knock during Sri Lanka's unsuccessful run chase in Guwahati. Interestingly, Shanaka could have been run out on 98 in the final over of the Sri Lankan innings.
ALSO READ: Watch: Crazy scenes as Shami runs out Shanaka at non-striker end, Rohit later withdraws appeal for SL captain to hit 100
Completing the final over of the contest, Indian pacer Mohammed Shami managed to run the non-striker out (Shanaka) after the Sri Lanka captain had backed up too far prior to the completion of the delivery. Reflecting the high standards of sportsmanship, Indian skipper Rohit decided to withdraw the appeal as Shanaka was handed a lifeline in the dramatic final over.
When asked about the noteworthy incident in the post-match presentation ceremony, Indian captain Rohit lauded his Sri Lankan counterpart for playing a valiant knock."I had no idea Shami had done that. When he went up in an appeal. Again, he (Shanaka) is batting on 98. The way he batted was brilliant. We got to give it to him. We cannot get him out like that. We wanted to get him out the way we thought we would get him out. But that was not something that we thought of. But again, hats off to him, he played really well," Rohit told Murali Kartik after India's win over Sri Lanka.
After retaining the strike in Shami's final over, Shanaka smashed a boundary on the second-last ball of the contest to complete his century. Sri Lankan skipper Shanaka remained unbeaten on 108 off 88 balls as Sri Lanka mustered 306-8 in 50 overs. However, Shanaka's batting heroics went in vain as Kohli-starrer India outclassed the visitors by 67 runs to take a 1-0 lead in the three-match series. Rohit's India will meet Shanaka-led Sri Lanka in the 2nd ODI on Thursday.