Stuart Broad dismisses suggestions of ball-tampering during Ashes
Stuart Broad, England fast bowler, expressed surprise that Australia needed to change the condition of the ball after getting it to reverse (swing) consistently during the recent Ashes series, which England lost 4-0.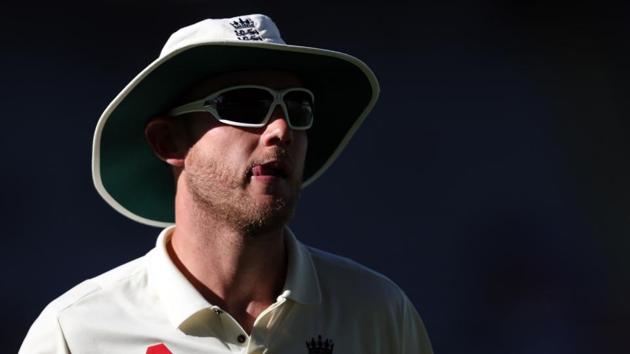 Updated on Mar 25, 2018 09:20 PM IST
Reuters, Auckland |
Reuters
Stuart Broad, England fast bowler, was perplexed as to why Australia would resort to ball-tampering in their third Test against South Africa when they were constantly getting reverse swing in the recent Ashes series. (Cape Town Test SCORES)
Australian cricket was thrown into turmoil on Saturday after fielder Cameron Bancroft admitted he had used sticky tape and bits of grit to try and affect the surface of the ball in Cape Town as South Africa extended their big lead.
(Read | Steve Smith steps down as Australia skipper for remainder of 3rd Test, Tim Paine to lead)
Captain Steve Smith later said Bancroft had been acting on instructions from the "leadership group".
The tampering conspiracy has been widely condemned, including by Australian Prime Minister Malcolm Tunbull, and both Smith and vice-captain David Warner agreed to stand down from their roles for the rest of the match while Cricket Australia investigate the incident.
(Read | Australia in turmoil over cricketers' ball-tampering shame in Cape Town Test)
"I saw Steve Smith in his press conference said it was the first time they've tried it, which to me, seems really surprising why they'd change a method that's been working," Broad who is playing the first test against New Zealand in Auckland, told reporters at Eden Park on Sunday.
"Look at the Ashes series that we've just played. You look through virtually all of those Test matches and they reverse swung the ball in sometimes conditions that you wouldn't expect the ball to reverse, so I don't understand why they've changed their method for this one game."
(Read | 'Brain fade' Steve Smith: Prolific but flawed Australia captain)
Broad, who is playing for England in the first test against New Zealand, refused to be drawn on whether he thought that maybe the incident at Cape Town was not in isolation.
"I don't know," the 31-year-old added. "Steve said it's the first time they've tried it. There's no evidence that they were doing this in the Ashes series, from what I've seen."
Apart from the ball tampering, the series has been played in increasing acrimony with claims of on-field sledging going too far and match referees issuing demerit points and fines.
(Read | Relations with Australia unaffected by scandal, says South Africa's team manager)
Warner was particularly incensed at something said to him by South Africa wicketkeeper Quinton de Kock during the first test.
Broad added he found it funny Australia were complaining about the sledging when they were just as culpable.
"I've always been a bit of a believer, in sport... if someone wants to take you on verbally, and they've started that fight, then you're allowed to say something back," said Broad who was identified as a target by Australian coach Darren Lehmann for crowds to abuse during the 2013 Ashes.
"Just from the outside, it looks like Australia have started a lot of fights and are moaning when someone comes back.
"Any England player, or probably media, that have toured Australia can laugh at those comments really, because some of the comments we hear on the pitch by Australian supporters, known as banter, having toured South Africa, I know it's worse than South Africa."
Close Story