The Indian connection to Filipino women's cricket success in Hong Kong
Guided by an Indian manager, the Filipino women's cricket team, comprising domestic workers, is set to win Women's Development League in Hong Kong.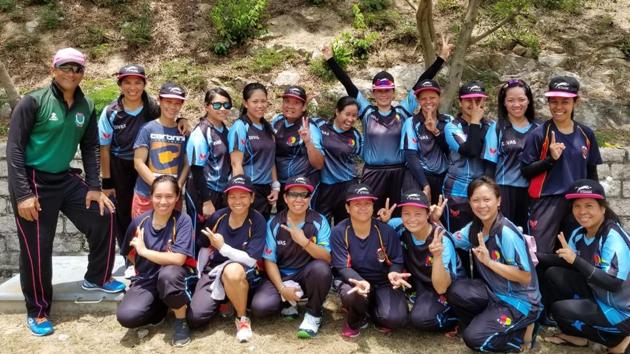 Updated on Jun 01, 2018 04:57 PM IST
Hindustan Times, Mumbai |
Ankit Kumar Singh
Cricket is as popular in Philippines as baseball is in India. Though the country has been an affiliate member of the International Cricket Council (ICC) since 2003, it is a game followed by a handful of people amid the massive popularity of basketball, football and boxing.
Around 1,332 kilometres away from the South Eastern archipelagic country in Hong Kong, cricket has found its way to the hearts of a few female Filipino domestic workers, who are making heads turn with their success in a domestic league.
Comprising some 30 domestic helps, this Filipino women's cricket team, named the SCC Divas, is on the verge of clinching the title of Cricket Hong Kong Women's Development League, featuring newcomers with 16 overs-per-side matches. The Divas have won their last seven matches and though there are two more games left in the tournament, they are all but assured of the championship.
READ | Ben Stokes ruled out of England's 2nd Test against Pakistan due to injury
Winning the title makes them eligible to take part in Hong Kong's main league for women cricketers next season. The main league features T20 games.
What makes their achievement remarkable is that they had no prior understanding of cricket before they came to Hong Kong to work as domestic helpers. As it turns out, it was an Indian who brought them together and inspired them to form a cricket team. Since then, they have taken to cricket like fish takes to water.
"They didn't know about cricket. We had to form a lady team for Development League and I brought them together. Now they like the game very much," said team manager Animesh Kulkarni, who is also an officer of The Association of Cricket Umpires and Scorers in Hong Kong.
Kulkarni, who hails from Solapur district in Maharashtra, shifted to Hong Kong around 25 years ago and was instrumental in starting a cricket league in the region in 1998. He came to know about these players through Josie Arimas, who happens to be the captain of the SCC Divas.
READ | Steve Smith to donate Global T20 Canada League earnings to grassroots cricket
Josie had come to Hong Kong as a domestic help in 2005. She was good at both baseball and softball, having learnt it from her father. In no time, she made a name for herself in baseball and it was because of her hitting prowess that she was roped in by Hong Kong Cricket Club's women's team three years ago.
Arimas soon developed interest in cricket and decided to promote it among Hong Kong's community of Filipino domestic helpers. Her efforts finally bore fruit when she managed to find interested followers. Some of these women played baseball and softball in their spare time. Arimas then approached Kulkarni who ensured these women get to take part in the Development League this season.
Under the supervision of Najeeb Amar and head coach Ricky Waite of Hong Kong national team, the Filipino women were able to master the game of cricket in a very short span of time.
The matches in the league are played only on Sundays and these women get to practice just once on their week off ahead of a match but when they take to cricket field, they appear like professionals and always manage to punch above their weight.
READ | Shahid Afridi reveals his plans regarding a possible return to international cricket
"They work on weekdays and play cricket on Sunday. They get only one day to practice ahead of the match on their week off but they play like veterans and have no problem in outplaying their younger rivals," said Kulkarni.
These women are not paid for playing in the league but the reward for them goes well beyond monetary benefit as it is helping them earn respect in the community.
Kulkarni is now trying for recognition from the Philippine Cricket Club for the Divas so that they can take part in friendly matches with their Manila counterparts.
Close Story