'He has done well at No.3, but they feel he can bat at 6 or 7': Karthik's dig at Team India on star batter's treatment
Jan 29, 2023 11:34 AM IST
Dinesh Karthik spoke in detail about the star batter's position in the Indian T20I lineup.
One of the hardest tasks as a cricketer in India has been to breakthrough into the national team. The task gets harder if the cricketer is an opening batter. The consistency of mainstay openers for India, especially in limited-overs cricket has left many fringe players to reconsider their batting position and hence posing themselves a massive challenge of playing as a middle or a lower-middle order batter. Senior India cricketer Dinesh Karthik feels such has been the treatment with all-rounder Deepak Hooda as he took a rather sly dig at the team management for not letting him bat at the top order.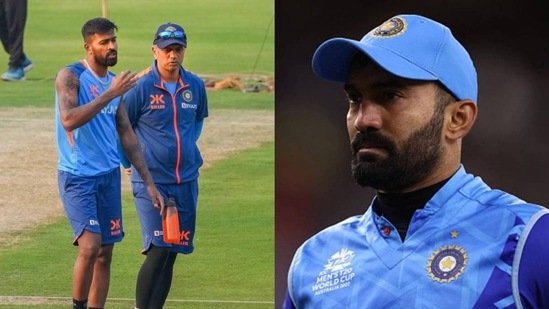 Since making his debut for India in 2022 in the T20I format, Deepak has has batted at six different positions in the line-up in 19 appearances. His most notable show came at No.3 when he had scored a T20I century in the Ireland series last June. Meanwhile, his has batted the most times at No.6, scoring 73 runs in six innings, with a highest knock of 41*.
ALSO READ: 'Hardik Pandya was not smart. He didn't have any plans': Ex-Pakistan cricketer blasts India captain for NZ T20I loss
Speaking to Cricbuzz, Karthik feels that Hooda has primarily been a top-order batter, especially after his move from Baroda to Rajasthan. However, even through his IPL career, he has been featured as a middle-order batter, barring the previous season where he batted up the order for Lucknow Super Giants.
"To be consistent is the hardest thing at 5, 6, 7, especially at 6 and 7. So Deepak Hooda, even though he has done really well at No.3, for some reason they feel he can do the job at No.6 and 7. I feel this is going to be a big challenge for him. Through his IPL career, barring Lucknow Super Giants, he is someone who has batted through the middle, at No.5 or 6, and hasn't had a very great success. He fancies himself as a top-order batter. He rediscovered himself when he went from Baroda to Rajasthan. He likes batting in the powerplay. He likes to take the game on. But right now, in the recently-concluded Sri Lanka series, he did decently well at No.6 and it was a great opportunity for him," he said.
The veteran wicketkeeper-batter added that although newbie Jitesh Sharma is a perfect fit for the No.6 or 7 role in the Indian line-up, Hooda will still be preferred in the ongoing New Zealand series. Karthik then urged the team management to try out Hooda again at No.3 if the all-rounder finds himself under pressure batting at No.6 or 7 before move on to Jitesh.
"Jitesh Sharma is a home-grown No.6 batsman. He is someone who likes batting there and would hence enjoy the situation a lot more. Her has batted there and has trained himself to bat there. But in this series I don't see him playing. Now it is Deepak Hooda. But I do think if he is under pressure they should give him that opportunity at No.3 before they decide to move on from him," he said.