Virat Kohli pins faith on 'two X factors' to tame England's runaway batsmen
England batsmen have been on fire in the home ODI series against Australia, but India skipper Virat Kohli is backing the bowling attack will come out on top.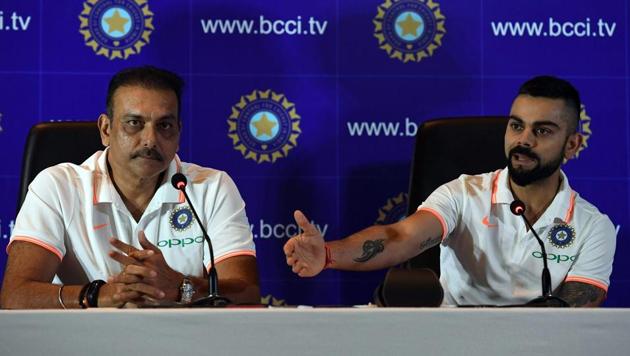 Updated on Jun 22, 2018 10:52 PM IST
India set out for a defining full tour of England on Saturday with debate raging over batsmen leaving bowlers running for cover with the home pummelling Australia in the One-dayers.
Benign pitches in the latter half of the British summer played a part in England amassing a world record 481 in Trent Bridge, which has set the cricket world abuzz. But using two new Kookaburra balls that don't aid movement hasn't helped.
Sachin Tendulkar too raised concern on Friday, tweeting it was a 'recipe for disaster' as bowlers can't reverse the ball that doesn't get old.
READ | Fully-fit Virat Kohli urges to move on from 2014 Test debacle in England
India skipper Virat Kohli has a point to prove, after the nightmarish 2014 Test series. He said a lot has changed, urging people to move on. He insisted the team's aggressive mindset and unity was all that mattered.
However, he isn't worried about England's ODI batting exploits. At the pre-departure media conference with coach Ravi Shastri, he said the 'two X factors' in wrist spinners Yuzvendra Chahal and Kuldeep Yadav made India a different deal.
WRIST SPINNERS DO IT
"It doesn't really matter if the pitches are similar to what you get all over the world in shorter formats -- batting friendly and people wanting to see big scores. What has been the difference for us is the two X-factors in the middle overs.
"We have definitely been able to turn flat wickets into exciting wicket-taking pitches because of the variety we have in the attack," he said. "The skill in the wrist did the job for them in South Africa (India won ODI and T20 series there). I am sure with our bowlers in the middle overs, when it is a full 50 overs game, you cannot go that hard for 20 overs from two bowlers in a row when you know they can get you out. That is where the mindset changes… I am not denying we have the fast bowlers as well to take wickets. But them (spinners) bowling after them gives the fast bowlers even more confidence, they don't feel defensive any point of time."
READ | Ravi Shastri's Yo-Yo diktat: 'You pass, you play, you fail, you fail'
Kohli doesn't see high scores in the Australia series as a concern anyway. "I don't see (high scores) that as a trend. It is the time of the year. We know that is one place where pitches behave differently at different times of the year.
"But I have read a lot about two new balls. I agree it is brutal for the bowlers."
Virat Kohli declared himself "110 percent fit" after neck injury forced him to drop a stint with Surrey, where he wanted to face swing in damp conditions. He saw the break as a positive and felt "fresh and ready to go."
He added: "Our focus will be on winning the match, it won't be about what me or any one player does on the tour. As a team what we do, that will be our main goal and focus."
READ | BCCI agree on Vinod Rai-led panel's decision on revised players' salary
India's Test series loss in South Africa saw debate over Ajinkya Rahane being left out in favour of Rohit Sharma in the first two games that India lost. He returned for the third Test in Johannesburg, which India won.
Shastri said the Yo-Yo fitness Test was an integral part of team selection, dismissing debate caused by Mohammed Shami, Ambati Rayudu and Sanju Samson dropped after being selection because they failed the test.
Close Story
Personalise your news feed. Follow trending topics