World T20 cricket: 10 years ago how Yuvraj Singh hit Stuart Broad for six 6s in an over
Yuvraj Singh hit six sixes in an over bowled by Stuart Broad during India's match against England in the 2007 ICC World T20. With this, he became the first Indian and second overall after South Africa's Herschelle Gibbs to achieve the feat in international cricket.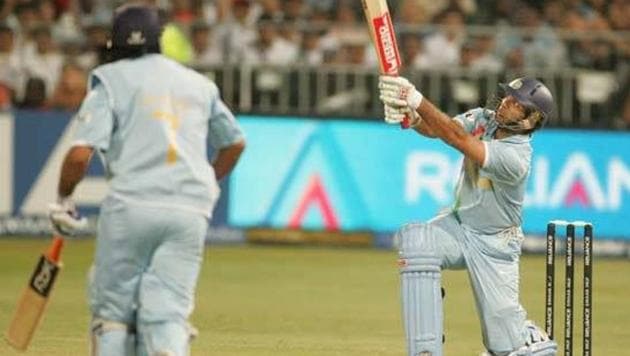 Updated on Sep 19, 2017 03:01 PM IST
Hindustan Times, Mumbai |
Devarchit Varma
Former England captain Andrew Flintoff may have scripted many memorable tales on the cricket field, but one that he would never forget would certainly be his run-in with India's Yuvraj Singh, on this day, 10 years ago.
The Indian all-rounder hammered six sixes in an over off Stuart Broad to race to the fastest T20I half-century ever after his spat with Flintoff.
During India's clash with England, 'Freddie' Flintoff was hit for two boundaries by Yuvraj in the Group E match of the inaugural 2007 ICC World T20 at Durban. The England all-rounder clearly wasn't impressed and went on to have a heated exchange with him.
(Read | 'Yuvraj Singh is God's gift to Indian cricket': former player praises southpaw)
Yuvraj Singh was only warming up to play a crucial knock for India, and he was riled up by the duel with Flintoff during the change of overs.
(Read | Herschelle Gibbs, others stay back in Afghanistan for cricket despite bomb blast)
Years down the line, Yuvraj revealed the details of the conversation he had with the England all-rounder, which left him so enraged that he tore into a young Stuart Broad in the next over, hitting him for a record six maximums.
Here is an account of their exchange:
Flintoff: Those were f***ing ridiculous shots
Yuvraj: F*** you
Flintoff: Excuse me?
Yuvraj: You heard what I said
Flintoff: I will cut your throat off
Yuvraj: You see this bat in my hand. You know where I am gonna hit you with this bat?
Broad charged in. Little did he know what's about to transpire.
The first six went over the cow corner; the second was flicked over the square-leg fielder. Yuvraj chose the cover region for the third six and by now it was clear that whatever Flintoff had ventured out to do was going to go horribly wrong for England.
Yuvraj continued the carnage; the fourth ball was a full-toss and he swung his bat with all power to clear the ropes at backward point. By now, Flintoff was shaking his head in disbelief, perhaps ruing what he had done.
Yuvraj smacked the fifth ball over midwicket for the fifth six. On the verge of creating history, he faced the final ball in a slightly crouching stance. The wide mid-on fielder was cleared on the final delivery. History was created!
His feat helped him enter the record books as he joined a very exclusive club of three batsmen — Sir Garry Sobers, Ravi Shastri and Herschelle Gibbs — to have hammered six sixes in an over.
The Indian cricket team eventually won the contest by 18 runs.
Close Story