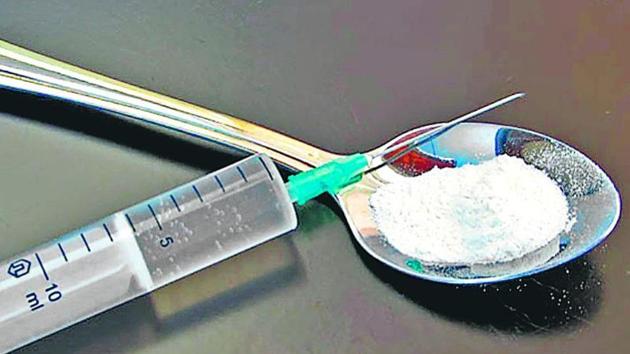 Why no action being taken against drug mafia kingpins: U'khand HC
Drug peddlers and handlers are being arrested but no action has being taken against the drug mafia kingpins in the state, the Uttarakhand High Court observed Wednesday
PUBLISHED ON JUL 18, 2018 10:04 PM IST
Drug peddlers and handlers are being arrested but no action has being taken against the drug mafia kingpins in the state, the Uttarakhand High Court observed Wednesday.
Issuing notices to the director, narcotics control bureau, Dehradun, and a senior home department official, a division bench of Chief Justice KM Joseph and Justice Sharad Kumar Sharma directed them to be present on Friday to explain what steps have been taken to check the drug menace in the state.
The bench also directed the government to provide the details of the cases lodged against drug offenders in the state so far.
The court was hearing a PIL filed by Ramnagar (Nainital) based social activist Shveta Mashiwal, who had alleged rampant drug abuse across the state. She had also highlighted rampant drug peddling and abuse in schools and colleges of the state, her counsel Dushyant Mainali said.
Mainali said in December 2017, the HC had directed all 13 district police heads to submit their replies on steps being taken to prevent drug abuse in all 27 government and private universities of the state. "The court had issued notices to all the senior superintendents of police (SSPs), SPs, universities and directors of higher and secondary education seeking their replies on steps taken to check drug menace in their respective areas," the lawyer said.
Last month, while expressing serious concern over drug menace having attained "alarming" proportion in the state, the HC had directed the government to set up special check posts on Indo-Nepal Border to check the free flow of narcotics substances into the state from the neighbouring country.
The HC had directed the state government to have a special task force (STF) at all the inter-state check posts adjoining Uttarakhand — Himachal Pradesh, Uttar Pradesh and Haryana — to check transportation of narcotics, particularly artificial drugs, into the state.
Last month , the HC had also sought reply from the central and the state governments, health secretary, district magistrates and social welfare officers of all 13 districts within four weeks on a PIL that alleged that authorities concerned were not doing anything to checking cultivation and trade of bhang (cannabis or Indian Hemp ) and charas (Hashish form of cannabis) in Uttarakhand, especially in the hilly districts due to which youngsters were becoming addicts and their future was getting ruined.
Different psychotropic substances are prepared from different parts of the cannabis or Indian Hemp plant like charas (resin), ganja (flower) and bhang (seeds and leaves). In 2017, Uttarakhand became the first state in the country to legalise cultivation of cannabis or hemp, but the permission is only for industrial purpose.
Close