AAP plans own EVM challenge to 'prove' EC's hackathon guidelines unrealistic
Jun 02, 2017 11:32 AM IST
AAP MLA Saurabh Bhardwaj said the party will hold its own EVM hackathon with a tampered prototype. Even experts from BHEL, ECIL will not be able to hack it if ECI restrictions are followed, he said.
To prove that the EVM hackathon being organised by the Election Commission of India is just 'eyewash', the Aam Aadmi Party (AAP) will hold a parallel 'EVM challenge' on June 3 in Delhi.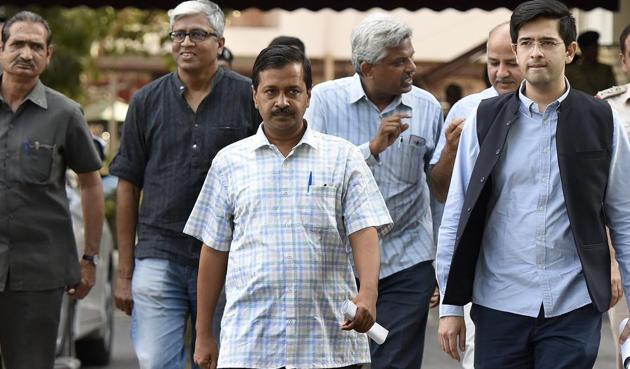 The ECI decided to hold a hackathon — for which it has issued strict dos and don'ts — as several political parties questioned the security features of the electronic voting machines after the assembly elections five states in March 2017. The BJP managed to form governments if four of these states after the results were announced.
Arvind Kejriwal's AAP, which performed much worse than it expected in Punjab and Goa assembly elections, has been the most vocal in its allegations of tampering with the EVMs.
AAP leaders have said that they will not participate in ECI's challenge as they believe that no voting machine can be hacked without opening it, which the ECI has not allowed in its guidelines.
AAP spokesperson Saurabh Bharadwaj, who had demonstrated the hacking of an EVM in Delhi assembly on May 9, said he plans to offer the same 'tampered' EVM for hacking at AAP's hacking challenge. But no one will be able to hack even that prototype if ECI guidelines are followed.
"The ECI claims it has a fully secure EVM. And, it has thrown up a challenge to hack it with jaadu tona (black magic) alone as nobody will be allowed to open an EVM. We will hold a similar challenge simultaneously. Our machines have been tampered with. We challenge all experts, including those of ECI, BEL and ECIL, to try hacking them following ECI's restrictions. They will not be able to do it," Bharadwaj told reporters.
AAP leaders said independent experts will also be invited for the challenge, the venue and timings will be announced soon.