In fake degree row, new DUSU president says can't recall subjects in graduation
The National Students Union of India said it had written to Delhi University with a letter from Thiruvalluvar University in Tamil Nadu that states that the new student body president Ankiv Baisoya's degree certificate is fake.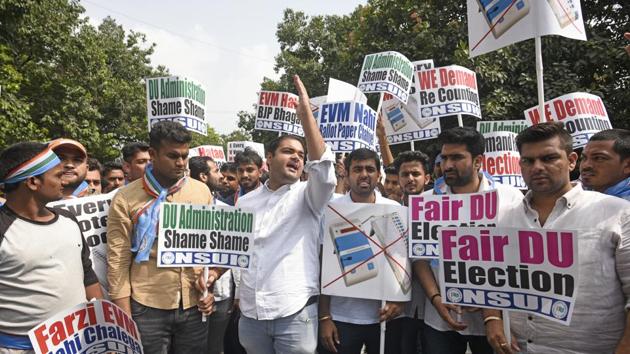 Updated on Sep 20, 2018 11:36 AM IST
The National Students Union of India (NSUI), Congress's student wing, on Wednesday wrote to Delhi University (DU) vice-chancellor Yogesh Tyagi, seeking action against the newly elected students union president Ankiv Baisoya.
The party has accused Baisoya, who won on the panel of RSS-backed Akhil Bhartiya Vidyarthi Parishad (ABVP), of allegedly submitting fake documents to get admission in Master's in Buddhist Studies.
The NSUI on Tuesday circulated what they claimed was Baisoya's bachelor's degree along with a letter from the Tamil Nadu-based Thiruvalluvar University, claiming that it was fake.
V Peruvalluthi, registrar of Thiruvalluvar University, said the certificate sent by the NSUI for verification is fake. "We have examined the copy of that degree certificate. It is obviously a fake one," he said.
Baisoya, however, termed the allegation as NSUI's "propaganda". "The NSUI is trying every tactic against me after losing the DUSU polls. I was very much a student at Thiruvalluvar University between 2013 and 2016," he said.
However, Baisoya said he could not recall the nature of the course he pursued at the Thiruvalluvar University. "I studied many subjects including English but I do not remember the other subjects," he said.
Monica Arora, ABVP's national spokesperson, said they are trying to contact the Thiruvalluvar University to verify Baisoya's candidature.
"We are yet to verify with the university to check the fact that Baisoya was a student there or not. However, we are pretty sure about his studentship there. But we are still looking for evidence," she said.
The ABVP bagged three out of four seats in the DU students union, including president, vice-president and joint secretary. NSUI won the secretary's post.
Members of NSUI also held a protest in DU's North Campus, demanding legal action against Baisoya. "The administration should not only cancel the candidature of Baisoya but also revoke his admission from the university," said NSUI national secretary Saimon Farooqui. He said that any delay in action by DU will testify that it was "acting in a partisan manner".
While DU officials did not react to HT's request to corroborate if the degree produced by NSUI was indeed the one Baisoya submitted for admission, V-C Tyagi and registrar Tarun Das did not respond to phone calls and text messages.
KT Sarao, head of DU's department of Buddhist Studies, said they generally do not verify the certificate with the last institution attended by the applicants but whenever a complaint is raised, they "look into it". "We take help from police to verify the documents in case we receive such complaints. In this case, I have not received anything from the administration," he said.
The NSUI also filed a police complaint against Baisoya.
The NSUI on Tuesday alleged that Baisoya had submitted fake documents to get admission. The ABVP denied the allegations. The student outfit claimed it had sought the information from the Tamil Nadu-based Thiruvalluvar University, from where Baisoya supposedly graduated in 2006, and learn that his graduation certificate submitted in DU was not genuine.
Close Story