FB friendship turns into obsession, man commits suicide after killing woman friend in south Delhi
Hindustan Times, New Delhi |
Anvit Srivastava
Nov 28, 2018 08:10 AM IST
Avinash Mandal and Ayoshna Kundu met on social media. Soon the social media connect developed into friendship and before Kundu could realise, it grew into Mandal's obsession to marry her.
It was three years ago, when 23-year-old Ayoshna Kundu, a graduate in multimedia from Kolkata's St Xavier's college, received a message on Facebook from Avinash Mandal.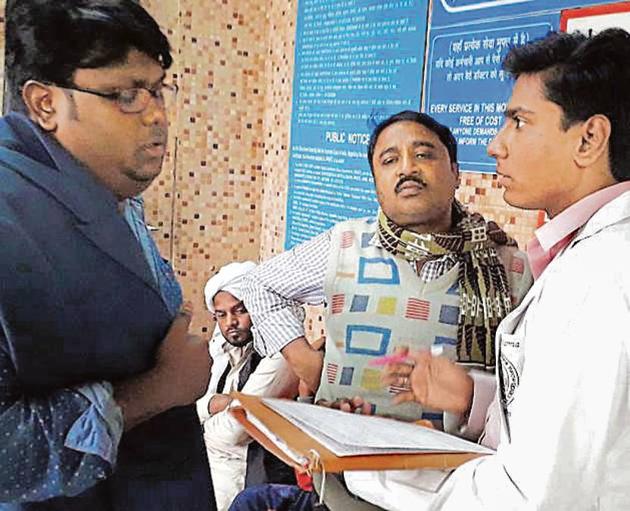 The social media connect soon developed into friendship and before Kundu could realise, it grew into Mandal's obsession to marry her, said her father Anitya Kumar Kundu, a Kolkata-based businessman.
On Monday evening, Delhi Police found both Mandal and Kundu dead at a flat in south Delhi's Chhatarpur. Police said Mandal had slit Kundu's throat and then he allegedly hanged himself to death from the ceiling fan in the same room.
Police have also recovered a suicide note in which Mandal has written that he is depressed because the woman rejected his advances and that death is the "only resort".
According to the police, the woman's family members said that Mandal had been after their daughter to marry him and that they had recently developed differences when she had told him that they could only be friends.
Kundu's father, who donated her eyes on Tuesday morning, said that the duo carried on with their friendship in Kolkata until she moved to Delhi in May this year to become a graphic designer.
Also read | Fashion designer, help killed in south Delhi farmhouse; her tailor among 3 suspects
The woman's family members said that Mandal, who was unemployed, kept visiting Kundu at her rented house in Chhatarpur as she was also trying to get him a job. It was on one such visit, on Monday, Mandal allegedly killed Kundu by slitting her throat and then hanged himself, police said.
Around 4 pm, Kundu's roommate received a call from her mother, Bubu Kundu, a Bengali television actress, who said her daughter is not answering phone calls.
Then the roommate called up the landlady who found that the flat on the first floor of D31 near Suman Chowk in Chhatarpur Extension was locked from inside, an investigator said.
According to the police, after getting no response from Kundu for over an hour, the landlady called up the cops around 6.30 pm. Police broke open the main door and found Kundu's blood drenched body lying on the floor. Mandal was found hanging from the ceiling fan next to the woman's body, officials said.
Deputy commissioner of police (south) Vijay Kumar said that they have recovered a suicide note from the room. "Mandal had written on the walls and the floor of her room that he was depressed and that she had rejected his proposal for marriage. We found 'blood thirst' written on one of the walls. Mandal also left a suicide note saying that he is depressed and that suicide is the only way out. According to the note, he also suspected her of having a relationship with someone else," the DCP said.
Kumar said they have recovered a kitchen knife from the room. "Inquest proceedings have been initiated for the man's suicide while a case of murder was registered regarding the woman's death," he said.
Also read | Police of three cities probing cases of missing minors 'linked' to Gurugram serial killer
Kundu's father, who arrived at AIIMS, Delhi from Kolkata on Tuesday morning, to receive her body, said that she was planning to move out of the country for higher studies. "She wanted to work abroad and was looking for a job. Mandal lives near our house in Kolkata and he had been pressurising my daughter for marriage. My wife had also told him to not bother our daughter but he did not listen. Since he was her friend, we did not suspect he would harm her," the Kundu's father said.
The owner of the house who had called the police refused to reveal the details. She said that she had rented the house to Kundu and her friend and that Mandal used to visit her often. "I never asked him why he used to come. The incident must have taken place between 5 to 6.30pm but I did not hear any altercation between them," the woman said, refusing to reveal her name.
A security guard, deployed at the gated colony where the murder took place, said that the first police's vehicle arrived at 7.08 pm. "A few policemen on bikes followed and then again a few police cars. Soon, policemen had swarmed the house, said Mohammad Shazam, who hails from Madhubani in Bihar and has joined the duty just 12 days ago.
Read | Groom shot at in Delhi, returns to complete wedding with bullet in shoulder
"Exciting news! Hindustan Times is now on WhatsApp Channels
Subscribe today by clicking the link and stay updated with the latest news!"
Click here!