The court has rejected a bail plea by Anish Koroth Kodayan, who is wanted in connection with the alleged suicide of his wife Shruti Narayanan, a 35-year-old Kerala-based journalist.
By
Yamini C S | Edited by Chandrashekar Srinivasan
Initial probe revealed that Saraswati, who modelled for small ventures and had received a number of offers, had allegedly hung herself in her room on Saturday night using a dupatta, a senior police official said.

It was the tragic death by suicide that has laid bare the daily trauma of the three sisters from a landless household married to an affluent family with demands for dowry from impoverished parents.

The women, aged 27, 23 and 20, were siblings and married to three brothers in Dudu town's Meeno Ka Mohalla, police said. The eldest sister's two sons (four years old and 22 days old) are among the deceased.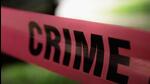 Bahuguna was booked under the Protection of Children from Sexual Offences (POCSO) Act.