Ghaziabad is India's most polluted city, again
Oct 31, 2018 09:42 AM IST
For the fourth consecutive day, the air quality in Ghaziabad on Tuesday was in the 'severe' category with AQI value at 451.
Ghaziabad city for the second consecutive day on Tuesday was the most polluted in the country, according to air quality index (AQI) measured by the Central Pollution Control Board (CPCB). The AQI value for Ghaziabad stood at 451 on Tuesday. It was 430 on Monday.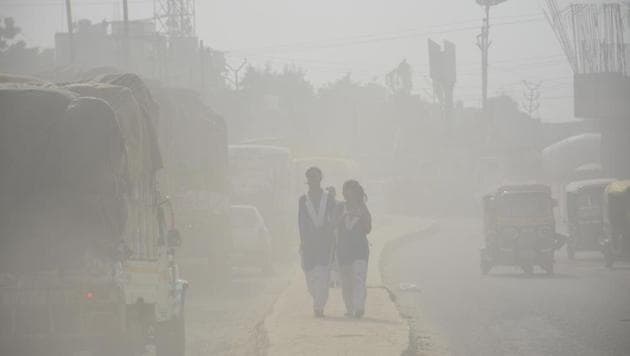 The city's pollution levels has witnessed a drastic spike in past couple of days. Tuesday was the fourth consecutive day that the air quality in Ghaziabad was in the 'severe' category. Earlier, the city had recorded to second most polluted air, after Kanpur, on October 27 and 28.
On Saturday, Ghaziabad's AQI value was 404 and it shot up to 415 on Sunday. The 'severe' air condition also prevailed in neighbouring Noida, which recorded AQI of 408, under the 'severe' category .
An air quality index or AQI between 0 and 50 is considered 'good', 51 and 100 'satisfactory', 101 and 200 'moderate', 201 and 300 'poor', 301 and 400 'very poor' and 401 and 500 "severe."
On Tuesday, the Ghaziabad administration sprung into action and directed closure of major construction works on the Ghaziabad stretch of the Delhi Meerut Expressway. Authorities also ordered the shutting of construction of two major flyovers at Vasundhara and Raj Nagar Extension and also other construction works taken up by the Public Works Department in Loni.
"We have also ordered immediate shutdown of eight major industrial units till November 30. These directions were passed on Tuesday after they were found violating pollution norms. The construction work for the 9.41-km Metro route is not closed but it will be stopped from November 1-10 as per directions of the Environment (Pollution & Control) authority (EPCA)," said Ritu Maheshwari, district magistrate.
The officials, however, said that they still haven't taken a decision for the closure of schools or closing primary classes due to prevailing conditions.
On Tuesday, the divisional commissioner (Meerut) held a detailed meeting with officials of the NCR districts and directing the stopping of salary and slapping showcause notices to 16 senior officers who failed to turn up for the meeting .
"The commissioner has directed for formation of joint inspection team which will check the polluting units. She also directed for strict enforcement of seizure of petrol and diesel vehicles that are more than 15 years and 10 years old, respectively," said AK Tiwari, regional manager of the UP pollution control board.