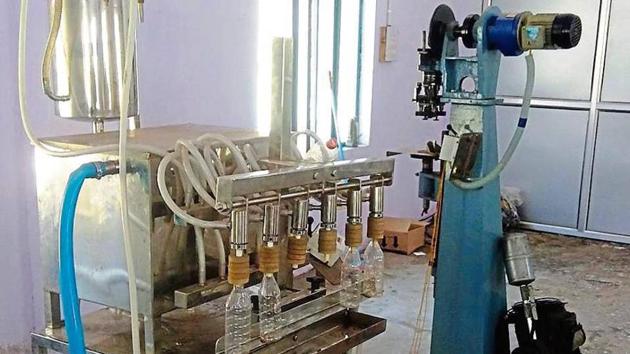 Illegal liquor factory busted in Ghaziabad, three cops suspended
The Noida police on Wednesday conducted raids in Ghaziabad and busted a major illegal liquor manufacturing unit which was allegedly set up at the behest of gangster Amit Bhoora
UPDATED ON SEP 27, 2018 04:02 AM IST
The Noida police on Wednesday conducted raids in Ghaziabad and busted a major illegal liquor manufacturing unit which was allegedly set up at the behest of gangster Amit Bhoora.
According to police, Bhoora is the brain behind the factory, set up on a rented premises in Tronica City area, which was functioning under the guise of a juice manufacturing unit.
The raid by the Noida police led to the arrest of four persons— Harit Kaushik, Sumit Saini, Luvkush Khatik and Bosh Kumar. The four were allegedly involved in the manufacturing and transporting of spurious liquor. The police said the arrests came after a tip-off from a liquor smuggler, Lokesh, who was arrested on September 25 near a milk booth in Sector 11, Noida.
Lokesh is from Jalalpur in Greater Noida and was arrested by the Noida police with six cartons of illegal liquor.
"The tip-off led our teams to Tronica City where thousands of litres of illegal liquor were seized. It was revealed that Amit Bhoora is the brain behind the operations. Bhoora is presently in Patiala jail and had earlier carried a reward of ₹10 lakh on his arrest. Our investigations are underway," Ajay Pal Sharma, senior superintendent of police, Gatuam Budh Nagar, said.
Bhoora was once wanted in connection with crimes in the states of Delhi, UP, Rajasthan, Punjab and Uttarakhand. He was arrested in April 2015 by the Patiala police.
From the building housing the 'juice' manufacturing unit, the police seized nearly 15,000 litres of liquor and seized another 1,000 cartons besides manufacturing and bottling equipment and a truck, car and a motorcycle.
The police said the factory was hired on a monthly rent of Rs 50,000 by Bhoora's brother. The property belongs to a family in Delhi and the allotment was done
in 2001.
"The owner was told that the unit would be manufacturing juice. However, liquor was manufactured and bottled at the small plant set up in the building. The bottles bore stickers of 'Angoori' and 'Santara'. These were transported to western UP districts," a UP Police officer said.
Following the raid by the Noida police, the Ghaziabad police suspended SHO of Tronica City police station, the local police-post in-charge and the beat constable for dereliction of duty.
"They were supposed to know about the unit in their area. An inquiry is being conducted by a senior officer. We have also asked all SHOs to remain alert and scan areas for such units," Ghaziabad SSP Vaibhav Krishna said.
Apart from the three suspensions, the Ghaziabad district magistrate (DM) on Wednesday said she has also written to
the state administration for action against the local excise inspectors.
"The unit was operational and the excise inspectors should have checked the premises. A communication has been sent to the state administration for necessary action," DM Ritu Maheshwari said.
Close