Mystery drones spotted again in Delhi, one near Parliament, cops clueless
Updated on Sep 25, 2017 01:00 PM IST
Security control room at Delhi airport received three calls of drone sightings in different parts of the capital over last two weeks. Drone movements are not usually captured on the ATC radar making tracking difficult.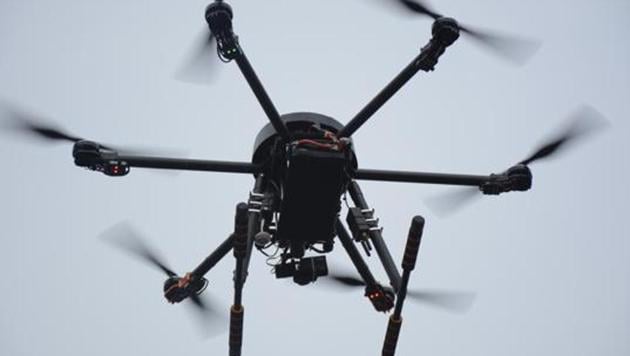 Three cases of drone sightings in the last two weeks — including one near the Parliament — have kept Delhi Police on their toes.
The security control room at Delhi airport received three calls of drone sighting from three different parts of the city in the last couple of weeks, none of which could be located later.
"On September 17 around 10pm, the Delhi police security control room was informed about the sighting of a drone like object in the Parliament area. The air traffic controller at Delhi airport was asked to check the radar but drone movements are usually not captured on the ATC's radar. However, security personnel were alerted," said an official of Central Industrial Security Force (CISF), requesting anonymity.
Airport official said that every month, nearly 6-7 cases of pilots getting distracted by different objects are reported from near the airport, but security agencies are yet to find a clue in any of the cases.
In most of the cases, pilots report the location in nautical miles because of which the police have been unable to make a breakthrough in any of the over 100 cases reported in the past two years.
In the second incident on September 9, Delhi Police control room informed the ATC about presence of a drone like flying object over a hospital in Mehrauli. The Delhi Police searched the area but could not find anything.
After Delhi airport scare, govt plans law to control use of drones
"Third incident happened on September 3, when an unknown person called Delhi Police control room and said that a drone was spotted near Vikaspuri. Again the Delhi ATC was informed and asked to check the radar. Local police was also asked to check the surrounding but nothing suspicious was found," the official added.
Police say usually, flight movement is not stopped when pilots report such sightings.
The home secretary had recently called a meeting to discuss a draft policy to ban use of drone.
Last month, a pilot of Air Asia had complained of getting distracted by drones while landing at Indira Gandhi International airport in Delhi. Airport operations at Delhi were later shut for two hours. The airport security force have been told to treat drones as possible security threats but there is no guideline on how to react when they see a drone in the vicinity of the airport.
Sources said that MHA will soon issue a notification, which will apply for airports across the country. In the guideline, there will be provision of punishment for those selling and buying drones illegally.