20 police teams search for missing drone that shut down Delhi airport
Aug 21, 2017 01:58 PM IST
Police teams are conducting searches in south-west Delhi, however, nothing has been found so far. The drone-like object was first spotted on Sunday by a pilot at around 11.20am. The object was spotted again in the evening.
Delhi Police is still looking for a drone-like object spotted near the Delhi airport by two pilots after which flight operations were halted twice for around two hours on Sunday.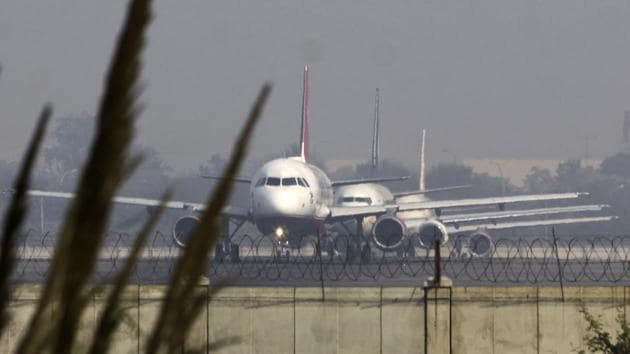 Flight operations resumed the same day at 7.55pm after clearance from Delhi police, but the mystery of the drone-like object is still unsolved.
Police have formed 20 teams, comprising three members each, to find the origin of the "unidentified aerial vehicle". Localities in south-west district, including Dwarka and Kapashera, have been searched so far. "Search operations are still on. We are looking at all possibilities. There are banquet halls in this area and people use drone cameras to record weddings, so our teams are searching near the halls too," said Sanjay Bhatia, deputy commissioner of police at the airport.
Operating a drone, an unmanned aircraft, is prohibited in areas near the airport.
Bhatia said they have informed the concerned authorities that nothing has been found yet.
"Our teams are talking to locals and asking them if they also spotted such an object," he said. Bhatia added that such searches usually don't involve any special equipment and police have to rely on talking to locals and taking their vision. "Our teams physically search the areas where the object was spotted and talk to locals to find if anyone has seen it," he said.
The drone-like object was first spotted by the pilot of an international airline during landing which led to the closure of runways from 11.20am to 12.20pm. In the evening, a pilot of Air Asia spotted a similar object and informed the ground staff, following which flight operations were halted for 40 minutes.
Police officials said that both flying objects were seen near Dwarka sector 23 and were 1.5 nautical miles away. "Pilots will be called to record statement. Beat constables have been asked to keep a watch in the area," officials said.
An official from the Central Industrial Security Force (CISF), which looks after the airport security across the country, said Air Asia flight I5-799 was halted for around 40 minutes after the pilots spotted the object near Terminal 3 of the Indira Gandhi International (IGI) Airport while landing at 7.09pm and reported the matter to the authorities.
Two Air India flights were reportedly diverted to Lucknow and Ahmedabad. One GoAir and one IndiGo flight was diverted to Jaipur in Rajasthan during the interruption of flight operations.
An official from Air Asia said, "The pilots spotted an unidentified object flying close to the aircraft while landing. They reported the incident to air traffic controller, director flight operations and head of corporate and flight safety." The airline has also filed a report with the DGCA, he added.
A team of personnel from CISF, Delhi police and aviation security rushed to the spot. The IGI Airport is the busiest in the country and handles around 1,200 flight movements every day. During peak time, the airport handles up to 70 flights per hour.
Earlier on August 2, a suspected object was recovered at the cargo hold area of the airport, raising security alarm.