No firecrackers this Diwali: SC puts on hold sale in Delhi-NCR till November 1
Oct 10, 2017 07:51 AM IST
The Supreme Court says its earlier order permitting firecrackers will come into effect from November 1, almost two weeks after Diwali.
The Supreme Court reinstated on Monday its ban on the sale of firecrackers in and around New Delhi ahead of Diwali, in a preemptive step to stop a toxic haze from engulfing the region like last year.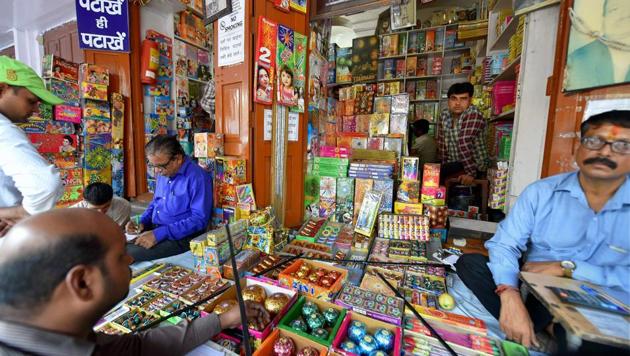 The festival of light falls on October 19 this year.
An acrid smog forced authorities to close schools and ban construction activities after Diwali last November. The city of more than 20 million people struggled with its worst air pollution for two decades, shrouded in smoke from millions of fireworks lit during the festival, burning of crop residue in neighbouring states before winter, vehicle exhaust and construction dust.
The court then banned the sale of firecrackers, but relaxed the restrictions on September 12 this year after a plea from fireworks manufacturers. The court said a complete ban would be a "radical step".
On Monday, a top court bench headed by Justice AK Sikri postponed implementing its September order while accepting a plea from three children for reinstating the ban. The court said the ban runs until November 1.
But there is no prohibition on lighting celebratory firecrackers or their sale outside the National Capital Region, which includes the Capital and satellite cities Gurgaon, Faridabad, Noida and Ghaziabad.
People who have already bought fireworks can use them, but new ones cannot be sold.
The children contended that curbs were imposed after Diwali last year and the effect the firecrackers had on New Delhi's air pollution wasn't tested.
The court said the impact of the ban on the region's air quality would have to be examined after Diwali. It also suspended all temporary trade licences issued by police for selling fireworks.
"We are of the view that the order suspending the licences should be given one chance to test itself in order to find out as to whether there would be positive effect of this suspension, particularly during Diwali period," the court ordered.
The court recalled the forced closure of schools last year when a "health emergency" situation occurred after Diwali.
"Insofar as adverse effects of burning of crackers during Diwali are concerned, those have been witnessed year after year," it said. "The air quality deteriorates abysmally and alarmingly and the city chokes thereby."
The Central Pollution Control Board (CPCB) supported the ban, as did global environmental group Greenpeace, which tweeted: "This is a nice step, let us look at other sources of #airpollution too."
Every year, in the days following the festival, city hospitals report a spike in respiratory and asthma cases and many people find it difficult to breathe. The onset of winter usually worsens the situation as cooler temperatures trap the pollutants, exacerbated by farm burning.
Levels of lung-clogging particulate matter known as PM2.5 hovered above 170 micrograms per cubic meter in New Delhi last week — 17 times higher than what the World Health Organization deems safe, and more than four times higher than India's own standard.
India's poor air quality causes over one million premature deaths every year, according to a joint report by two US-based health research institutes earlier this year.
(with agency inputs)
FB Live : Firecracker vendors in Delh's Chandni Chowk react to SC order
.
"Exciting news! Hindustan Times is now on WhatsApp Channels
Subscribe today by clicking the link and stay updated with the latest news!"
Click here!