Not making the cut: How coronavirus killed tailoring
These suave, English-speaking tailors, many of who learnt their craft in London, say they survived the ready-made revolution in the 1990s and the 2008 financial crisis—but the pandemic has pushed them to the brink.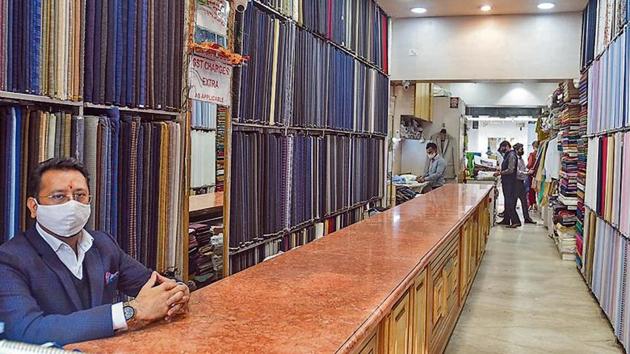 Updated on Dec 14, 2020 04:04 PM IST
Grover Tailors in Delhi's Khan Market stitched suits for former US presidents George W Bush and Bill Clinton, and Brazil president Jair Messias Bolsonaro when they came to India.
For other customers, their waiting time to get their measurements taken is usually hours, and a month for delivery.
Grover Tailors specialises in bespoke suits. For the uninitiated, the essence of a 'bespoke' suit lies in the process -- from detailed measurements to creating a unique pattern, each suit is handcrafted after several fitments. It's considered a craft.
Railways innovates, makes side berths comfortable
But the pandemic has left the passionate purveyor of bespoke suits with little business. "Our business is down by 80%," says Bobby Grover, who runs the shop with father OP Grover.
With business and leisure travel, weddings, anniversary celebrations, graduation ceremonies curtailed or cancelled, and with many working from home (in sweatpants rather than suits), people have little reason to dress up. "Looks like most of our clients see no reason to wear suits. We had 35 people working with us, but only 12 are left. The tailors in the city's high streets such Khan Market and Connaught Place are the most affected by the pandemic," says Grover.
Flamenco artist encourages people back into theatres with jazz dance, salsa and music
If Savile Row in London is the Mecca of tailoring where the rich and famous from across the world have been going for over 200 years to get their suits stitched, Connaught Place (CP) in Delhi once used to be India's Savile Row. It used to be home to legendary tailors such as Ranken & Company, Trevillion & Clark (both were run by Britishers), Md Omar & Sons, and S.C. Sharma & Company.
While over the years many of these firms have closed, CP still has some true bespoke tailors from the old days whose suits would cost anything from Rs 40, 000 to Rs 4 lakh. These suave, English-speaking tailors, many of who learnt their craft in London, say they survived the ready-made revolution in the 1990s and the 2008 financial crisis—but the pandemic has pushed them to the brink.
Take, for example, Vaish at Rivoli. Established in 1940, the shop boasts clients as Maharaja of Jaipur, Maharaja of Rampur, BR Ambedkar, among others.
It is Friday afternoon and the shop has no customers – the business, says Sachin Vaish, who runs the shop with his father Ashok Vaish is down 70% compared to last year. "This has not happened in the 80 years we have been in business. Most of our clients are well-travelled corporate executives, lawyers and doctors, who appreciate a bespoke suit. Most have not turned up this year," says Sachin Vaish.
The ongoing wedding season too has not helped.
"Before the pandemic, we used to make as many as 25 suits for a wedding, but now weddings are a low-key affair, and we do not have such large orders. It is some of our old clients who love wearing new clothes that have sustained us," says Vaish who, like his father and grandfather learnt tailoring at Savile Row.
Many top tailors tried to work remotely—Grover, for example, took measurements of some clients, with the help of their family, and Sachin Vaish tried out a body measurement app. "But the software has a long way to go before they can become useful to bespoke tailors. We require 35-40 odd measurements and need to understand differences in the client's body shape and posture. This can't be done virtually yet," says Vaish.
But it is not just the high street tailors that have been affected. Mohan Singh Place, one of the city's well- known tailoring destinations with about 70 tailors, and Shankar market in CP, which has about 40 big and small ladies' tailors, are desolate places these days.
As one enters the dimly-lit Mohan Singh Place, one sees dozens of heavy rolls of denim and other clothes at the entrance of each shop on different floors. But the sewing machines are all silent.
Set up in 1969, Mohan Singh Place, perhaps the city's first mall, once known for its fruit and imported goods shops, had by the 1990s become denim heaven, with one tailor stitching as many as 50 jeans a day. The business took a hit in the mid-1990s with the arrival of ready-made denim brands.
"But even then our business never suffered this much because we could make a pair of jeans at a much lower price in two hours, " says Naresh Verma, president, Mohan Singh Place Traders Association.
Rajesh Verma, who runs HL Tailors and Drapers in the market, was busy watching a video on his mobile phone on Friday afternoon.
"This is what I do these days to pass time," he says. "The pandemic has altered people's priorities. Clothes seem to have slipped down that list. It has changed how people thought about dress, and has done away with the existing dress codes," adds Verma seeking to throw light on the social-psychological aspect of the people's current disinterest in sartorial indulgences.
Not far away in Shankar Market, one of the city's biggest tailoring hubs for women, Mohammad Arshad, a tailor has been desperately calling his clients. "This is a peak season and I used to make about 15 women's suits a day before the pandemic, but have made only one suit in the past week. Our clients are women mostly in their late 40s and 50s, and a lot of them do not want to venture out as yet, at least not for visiting their tailor, " says Arshad.
It's not just Arshad's shop but the entire market -- which came up in 1957 and has 110 shops and 54 stalls that are mostly in the cloth and tailoring business for women --- is deserted. "Most of my employees have gone home as there is no work," says Mohammad Javed who runs a tailoring shop in the market." I am already thinking of doing something else."
"The next two years are going to be tough. We hope this business of online meetings in casuals will not go on forever. What gives me hope is that human beings like to pamper themselves with new clothes. They will eventually return," says Vaish.
Topics
Close Story