Now, biofuel from Barapullah drain sewage
Sep 19, 2018 09:52 AM IST
Though this is a demonstration project, ICT scientists say its capacity can be increased to treat the entire Barapullah drain water.
In a first-of-its-kind initiative in the country, wastewater from drains will be used to produce biofuel.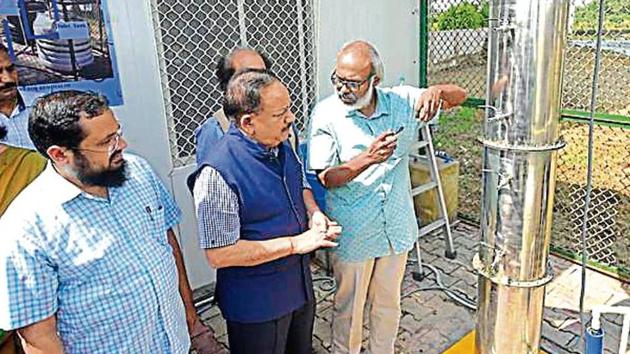 Science and technology minister Harsh Vardhan on Tuesday launched a project wherein a plant with a capacity of 10 lakh litres per day will be set up to produce biofuel by treating sewer water from the Barapullah drain.
The plant will be set up on the banks of the Yamuna near Sun Dial, Sarai Kale Khan, in the next nine months by the Department of Biotechnology (DBT) and Institute of Chemical Technology (ICT), Mumbai.
"Waste should be considered as a resource. This is a next-generation technology for waste management, which is at least 20 times faster than the existing technology," Arvind Lali, professor of chemical engineering at ICT and head of DBT-ICT Centre for Energy Biosciences, said.
The plant will produce 4.15 tonnes a day of biogas, which will be further processed to obtain one tonne of methane (bio CNG) per day; 1.26 tonnes a day of fertilizers and nine lakh litres per day of reusable water.
Though this is a demonstration project, ICT scientists say its capacity can be increased to treat the entire Barapullah drain water.
Explaining the process, Lali said drain water will be filtered first and solid waste and sludge waste (or captured carbon) will be processed using the 'catalytically thermo-liquefied (CTL)' technology developed by ICT.
"The carbon in the drain water will be captured in the filtration process and will clean water, which is fit for reuse in irrigation, toilets or can be released in the river. The CLT technology, for which we have a patent, will process solid waste into CLT oil. The oil will be further processed to produce fertilizers and biogas, and methane in the last stage," he said.
Launching the project, Harsh Vardhan said, "This unique project will turn waste into a profitable resource and help in protecting the environment. I often get request from public to cover the drains in their area. BDT and ICT have shown that waste water can be converted into biofuel."
This project is part of a DBT-Delhi Development Authority's joint venture project to transform the Barapullah drain near Sun Dial into a clean water technology park. Under the joint venture, which was started last year, Indian Institute of Technology, Delhi, has set up a laboratory to test different technologies to treat the waste water.
"We are testing six technologies to treat the drain water. Depending on the results, we will increase the scale of the technology that gives better results," said Shaikh Ziauddin Ahammad, associate professor, department of biotechnology at IIT Delhi.