Tipu's Sultan's portrait won't be removed from assembly: Speaker
Updated on Jan 31, 2018 11:16 PM IST
Last week, Sirsa had alleged that Mysuru ruler Tipu Sultan was a "tyrant who forced lakhs of Hindus and Christians to adopt Islam"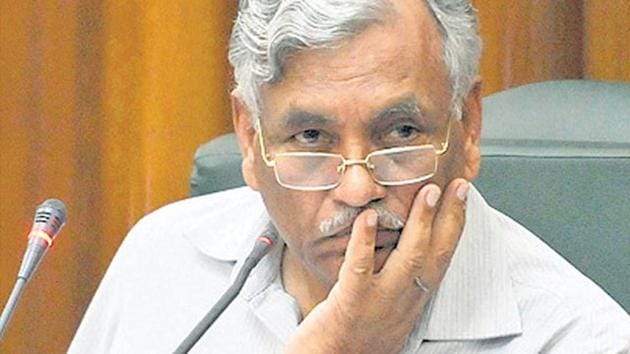 Speaker Ram Niwas Goel on Wednesday said there was no question of removing Tipu Sultan's portrait put up in the assembly gallery along with photos of other freedom fighters on Republic Day.
The assembly speaker's remarks came days after the Bharatiya Janata Party (BJP) questioned the move and its MLA from Rajouri Garden, Manjinder Singh Sirsa, demanded removal of the portrait.
Last week, Sirsa had alleged that Mysuru ruler Tipu Sultan was a "tyrant who forced lakhs of Hindus and Christians to adopt Islam". Leader of Opposition Vijender Gupta had said the AAP government did not consult him before putting up the portraits.
Addressing a press conference, Goel alleged that it was the BJP's habit to create controversy on every issue.
"There is no question of removing Tipu Sultan's portrait from the 'Martyrs Memorial Gallery' of the Assembly. If anyone removes the portrait, I will take strict action," Goel said.
Goel said the General Purpose Committee of the Assembly, which he heads, had taken a decision to install portraits of 70 personalities comprising freedom fighters, revolutionaries and heroes of the country, symbolising each Delhi constituency.
Goel said all the portraits were put on display for two weeks before they were formally unveiled. He wondered why the BJP did not raise object then.
"The Constitution of India carries a picture of Tipu Sultan on its page number 144 of Chapter 16. So either the people who had written the constitution were wrong or they (BJP) are," Goel said.
Responding to Goel's remarks, Sirsa said he would meet the Speaker on Friday and try to convince him to remove the portrait.
"I do not fear any action. The government should conduct a referendum. I will request the Speaker to put up the portraits of Rajput king Prithviraj Chauhan and revolutionary Jasa Singh Ahluwalia who contributed a lot for Delhi," Sirsa said.
'L-G not ready to meet me'
Goel on Wednesday said lieutenant governor Anil Baijal was not giving him an appointment despite sending requests twice. He said BJP MLAs were given time to meet the L-G whenever they requested.
There was no response from the L-G's office to the allegations.