What's going on in Delhi, asks Arvind Kejriwal after shots fired outside AAP leader's house
AAP councillor from Delhi's Sangam Vihar, Jitendra Kumar has alleged that the firing outside his house was politically motivated and the attackers also damaged a car and three bikes parked outside his home.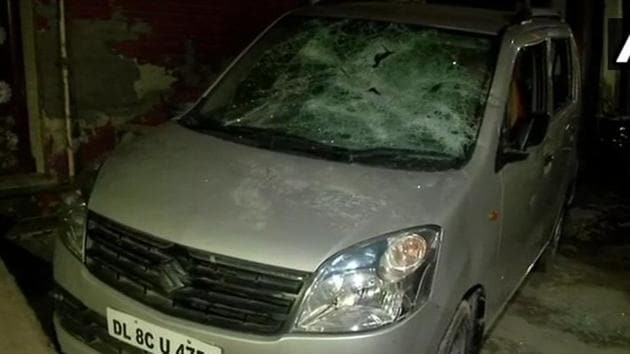 Updated on Nov 17, 2018 09:01 AM IST
Delhi chief minister and Aam Aadmi Party leader on Friday reacted to the attack on his party's councillor from south Delhi's Sangam Vihar Jitendra Kumar, who said around two dozen men opened fire at his home.
"What is going on in Delhi?" Kejriwal tweeted.
Kumar said he was present in his home with his relatives, who had come to attend his wedding scheduled on November 19, when the firing started at around 6.30pm.
"After hearing the gunshots, we immediately locked ourselves in rooms and called the police. Police reached half an hour later and by the time they reached the attackers had fled. There were 20 to 25 people who fired around 10 rounds. We luckily survived," Kumar said.
Kumar said the attack was politically motivated and the attackers also damaged a car and three bikes parked outside his home. He added that he could identify three to four of the attackers.
Joint commissioner of police (southeastern range) Devesh Chandra Srivastava said five to six empty bullet shells were found around the house of AAP councillor.
"Initial enquiry revealed that the councillor had an altercation with some locals over an issue two days ago. We are looking into this matter. The suspects are being identified. An appropriate legal action would be taken as per law," said Srivastava.
Kumar rejected the police theory, saying he had no personal enmity with anybody in the locality and the issue over "altercation over urination" has nothing to do with Thursday's attack at his house.
The AAP also said the attack on its councillor was politically motivated.
"Multiple rounds fired on the house of Jitendra Kumar AAP's councillor from Sangam Vihar (ward 83S), who hails from UP. (It) Appears to be a politically motivated attack. If such is the case of elected representatives, one can only imagine the plight of a common man in this lawlessness," AAP's south Delhi Lok Sabha constituency in-charge Raghav Chadha said in a tweet.
Close Story
Personalise your news feed. Follow trending topics