Why Delhi goes under water every monsoon
Jul 15, 2018 06:11 PM IST
A look at the main reasons Delhi comes to a standstill every time it rains in the city
Just two hours of downpour on Friday is all it took for Delhi to go Mumbai's way this monsoon. It once again exposed the inadequacies of the city's drainage system and washed away the tall claims of civic agencies as road after road went under water.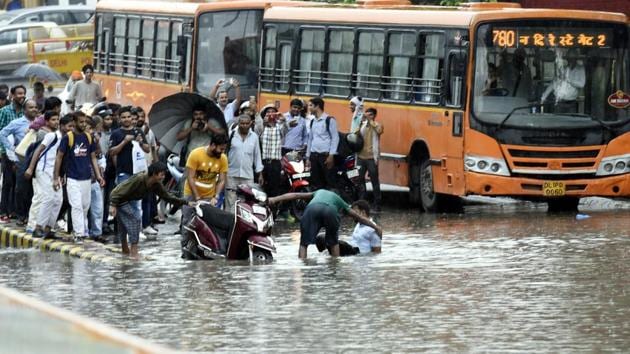 At least 45 major roads such as Bahadur Shah Zafar Marg, Mathura Road, Lala Lajpat Rai Marg, Mahipalpur Road and Munirka, saw snarls caused by waterlogging.
At some places such as Minto Bridge, Chattarpur Andheria Mor and Karol Bagh, traffic had to be diverted due to heavy waterlogging or trees falling.
The eight roads owning agencies of Delhi — Public Works Department (PWD), the three municipal corporations (east, south and north), New Delhi Municipal Council (NDMC), National Highways Authority of India (NHAI), department of irrigation and flood control and Delhi Cantonment — don't have a common monsoon plan or an agency or department to co-ordinate their work.
So, why does Delhi comes to standstill every time it rains? Here are the main reasons:
POOR INFRASTRUCTURE
According to experts, there's no need to waste crores of rupees on desilting stormwater drains every year if separate sewer lines are laid out in the entire city.
"The silt is nothing but half-digested sewage and because we have no separate sewer lines in nearly 50% of the city, including the upscale colonies of south Delhi, sewer manholes start overflowing every times its rains," Sarvagaya Kumar Srivastava, former engineer-in-chief, PWD, said.
"On the one side, we compare ourselves with smart cities, introducing modern technology to build roads and on the other, we still don't have basic infrastructure. During the inter-department meetings, we had pointed out the need to allocate a budget to the Delhi Jal Board to construct sewer lines," Kumar said.
Even the draft drainage master plan for NCT of Delhi, prepared by a team from the Indian Institute of Technology (IIT) Delhi, highlights the need for the city's stormwater drains to remain free of sewage and solid waste.
The plan goes on to add that the current practice of the Delhi Jal Board puncturing sewer lines and draining sewage into storm drains in the event of blockage should be stopped.
"Since stormwater drains have not been built for carrying sewage, they end up getting flooded in the rain, leading to waterlogging and snarls," professor Rakesh Khosa , IIT-Delhi, part of the team that prepared the master plan, said.
POOR MAINTENANCE
Recently, the PWD had carried desilting work on a portion of Vikas Marg. But the drain bell mouth, the slope between the pavement and road to channel rainwater into the drain, is still choked with garbage. No effort was made to clean it. The situation is the same on Tagore Road, behind the Civic Centre.
"The mud swept up by cleaners is pushed into these bell mouths. In the rain, this mud hardens, obstructing movement of rainwater. Road-owning agencies should instruct the staff to clean bell mouths regularly," BS Vohra, president of East Delhi RWAs Joint Front, said.
Khosa said peoples' tendency to throw garbage on roads is another reason for bell mouths being choked. "Besides this, the cleaners often leave the trash on the side which flows inside drains when it rains," he said.
Meanwhile, some agencies have claimed they have done more desilting than their target after conducting field surveys. "The south corporation might be claiming that they have completed 143% desilting work, but in our locality, nothing has been done so far," DB Sood, resident of Kailash Colony, said.
It is important that local public should be notified of completed work and public suggestions or feedback is sought (through an app that allow the user to send geo-tagged photos of the issue), the draft drainage master plan submitted to the Delhi government last year says.
FAULTY DESIGN
Several arterial roads and drains have faulty slopes that do not allow rainwater to recede naturally. Slip roads are designed poorly and flood easily. Roads in low-lying areas overflow as the drainage is poor.
Such cases are evident in localities such as East of Kailash's E-Block where waterlogging is a perennial problem.
"Since it's a low-lying area, water accumulates here after the slightest of rain. Attempts have been made to improve the drain slope, but nothing has changed," KK Mittal, RWA member of E block, East of Kailash, said.
This happens as neither the contractor nor the officials is answerable for the faulty design after completion of work.
"In extreme situations, penalties are imposed or the contractor is blacklisted. If such mistakes are made a 'criminal liability', then no one will dare to compromise the quality of work, design and labour engaged for a project," former PWD engineer-in-chief Srivastava said.
'DISAPPEARING' STORM DRAINS
While Delhi's population has multiplied over the years, little has been done to improve the drainage system.
In a reply to the National Green Tribunal's order in 2014-15, Delhi government's irrigation and flood control department had revealed that of the 201 big drains carrying rainwater to the Yamuna, 44 are 'missing'. These 201 drains were mentioned in the Drainage Master Plan 1976.
Experts suspect that these drains were encroached upon or filled up over time for constructing houses and roads.
"We fear that these drains have been filled up to build shops, houses and parking lots. Those that still exsist are reduced to carrying domestic sewage," Manoj Misra of Yamuna Jiya Abhiyan, who filed the NGT petition, said.
"Even on main roads, drains are covered for aesthetic reasons and to avoid accidents. During the desilting drive, only the manholes are cleaned and the area between manholes is left unattended," Khosa said.
MULTIPLICITY OF AGENCIES
Some of the drains are managed by multiple departments or subdivisions within departments. Extra care is required in such cases because if desilting is not carried out in coordination, its effectiveness is significantly reduced.
"In 2016, former US secretary of state John Kerry and his motorcade were stuck in a rain induced gridlock near Daula Kuan. We later discovered that the waterlogging happened due to a damaged drain in the defence area, some 200 metres away. The drain had been damaged when the Delhi Metro undertook some digging work," Srivastava said.
Lack of coordination also leads to a blame game. "Three years ago, the south corporation constructed new roads and a stormwater drain. Still, waterlogging took place during in the monsoon as the PWD had not linked the drain to the larger network," Rohit Kumar, resident of New Friends Colony, said.