AAP crisis: Kumar Vishwas says don't blame EVMs, party lost touch with workers
Updated on Apr 28, 2017 10:47 PM IST
AAP leader Kumar Vishwas says party should introspect after its loss in Delhi municipal election.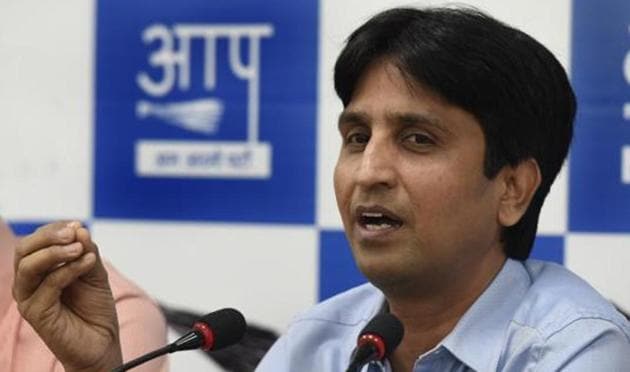 Aam Aadmi Party leader Kumar Vishwas on Friday held his party leadership responsible for the defeat in the municipal election in Delhi and the assembly polls in Punjab and Goa last month.
In an interview to India Today TV, Vishwas said that instead of blaming the electronic voting machines (EVMs), the party should introspect. He alleged that the party seniors take decisions behind closed doors and even the appointment of labour minister Gopal Rai as the Delhi convener on Thursday was taken without any discussion with other party members.
"Gopal Rai was given charge of Delhi by Arvind Kejriwal. Nothing was discussed. The decision was told in the PAC (political affairs committee)," Vishwas said.
Vishwas said that one of the main reasons behind the party's humiliating defeat in MCD elections was that the party's top brass had lost connect with grassroot workers. He pointed out that the party had drawbacks and an overhaul was necessary.
Vishwas has been a member of AAP since its inception in 2012. He was an active face of the anti-corruption movement launched by Anna Hazare with Kejriwal and Kiran Bedi at Ramlila Ground in 2011.
"This is our sixth defeat because we were disconnected with volunteers. EVMs should not be blamed solely. We lost because people did not vote for us," he said.
Delhi chief minister and AAP's national convener Arvind Kejriwal had been blaming 'faulty' EVMs since the party's disappointing performance in assembly elections in Goa and Punjab. He had even threatened to launch an agitation over alleged manipulation of EVMs.
When questioned about the party's loss in Punjab elections, Vishwas said the problem started with ticket distribution. "People from the Congress and the Akali were given tickets. Many decisions were taken behind closed doors," Kumar Vishwas said.
Sources in AAP had earlier revealed that Vishwas was upset with the party because he was not named as its star campaigner in Punjab, but he continues to play a critical role in campaigning.
Vishwas also criticised his party on other issues, such as its stand on surgical strikes saying it was not right to attack the Prime Minister on the issue of surgical strikes.