Greater Flamingos skip Okhla, find new haven in Najafgarh
The Greater Flamingo (Phoenicopterus roseus) has found a new open home in the Capital, the Najafgarh Jheel and marshlands.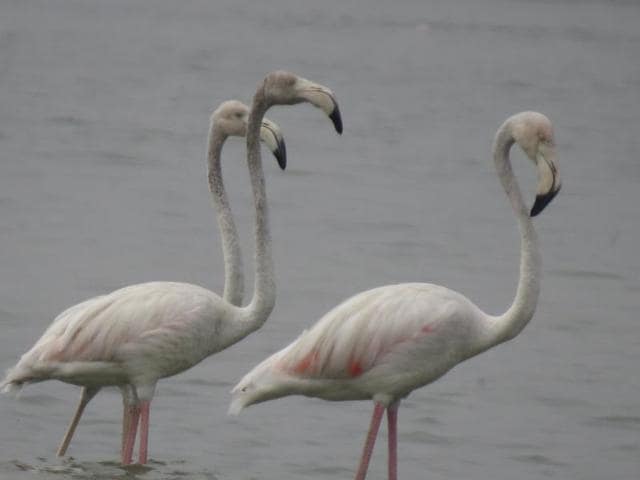 Published on Aug 08, 2016 12:00 AM IST
The Greater Flamingo (Phoenicopterus roseus) has found a new open home in the Capital, the Najafgarh Jheel and marshlands.
The tall, attractive, rosy-white pink billed coastal birds have given their traditional habitats in Okhla and Sultanpur sanctuary a miss in the last three years, birdwatchers claimed.
The Greater Flamingo is a popular resident of west Africa, sub-saharan Africa, the Mediterranean regions, southwest and south Asia (especially Pakistan, Bangladesh, Sri Lanka, the coastal belt of Maharashtra, Gujarat, and Odisha in India). It migrates to the wetlands of Rajasthan, NCR-Delhi, Uttar Pradesh and Madhya Pradesh (Chambal) and feeds on crustaceans, worms, insect larvae and seeds of marsh plants.
Birdwatchers claim that the Okhla Bird Sanctuary and the Sultanpur National Park in Delhi-NCR used to be the natural migration spots for these majestic birds till almost some years ago.
The maximum population of flamingoes recorded at Okhla Bird Sanctuary was in 1999, when more than 500 such birds were counted during the yearly Asian Waterbird Census.
Read more: Sultanpur National Park fails to attract birds in breeding season
"However, census reports of later years show a regular but fluctuating count of the birds at the Okhla Bird Sanctuary in 2010, 2011 and 2012 and a declining count between 2013 and 2015. In 2016, the birds have given Okhla a complete miss," said ecologist TK Roy, who is the Delhi state coordinator of the Asian Waterbird Census, Wetlands International South Asia.
The suitable habitat of Greater Flamingos for congregation and feeding includes marshland that is thickly covered with water hyacinth. This habitat can be highly disturbed by cattle movement on the wetland and various forms of human encroachments.
"Due to degrading habitat and disturbances, the Greater Flamingo has become sparse in Okhla and Sultanpur and have now instead shifted to new open habitats like the Najafgarh Jheel and the marshlands. This is adjacent to the longest sewage drain in Delhi and has a good feeding habitat. The yearly Asian Waterbird Census (AWC) reports show regular and increasing population of Greater Flamingo at Najafgarh Jheel & marshlands from 2014 to 2016. Even now in the monsoons, they are here in large numbers," Roy said.
Najafgarh Jheel or lake is now home to other resident wetland birds too. The Najafgarh drain connects the lake to the Yamuna river near Wazirabad in north Delhi.
Birdwatcher Wing Commander Vijay Sethi says the only good thing is that these birds are still in Delhi-NCR. "Around 7-8 years back, you could see 500-600 flamingos in Okhla at one time. This number has gone down dramatically. Now they are being sighted in Najafgarh. The reasons for their disappearance from Okhla could be the high tension cables, which usually drive away birds, and the excessive urbanisation in the form of tall buildings near the sanctuary," Sethi said.
Another avid bird watcher Bharati Chaturvedi, who is also the director of Chintan Environmental Research and Action Group, says Najafgarh has over the year become a haven for birds in recent years.
"With the neighbouring areas being concretised, Najafgarh has emerged as a refuge for birds who may have lost their habitat and show up here. More and more bird watchers are visiting Najafgarh in recent years," Chaturvedi said.
Close Story