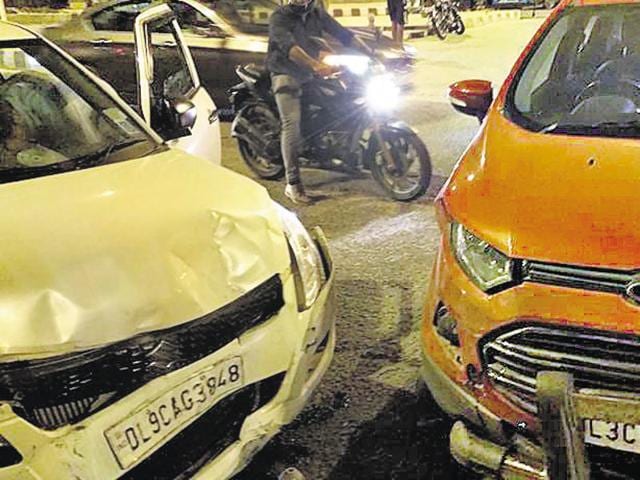 Delhi road rage: Drunk men ram official's car, abuse and film his wife
A 40-year-old civil servant, serving as director residential and institutional land in DDA, and his family, including his wife and daughter, became victims of road rage on Wednesday night. The officer was on way to drop his daughter at the airport when the incident took place around 11:30 pm.
UPDATED ON OCT 14, 2016 11:52 AM IST
A 39-year-old woman became a victim of road rage in South Delhi on Wednesday night. She, her husband and daughter were on their way to the airport, when they were hit by a car, and four drunken youths pushed her and filmed her, it is alleged.
The incident took place at around 11:30 pm on August Kranti Marg.
The woman told the police that when they reached the signal at August Kranti Marg, the yellow light was blinking . She said her husband checked both sides of the road and was moving ahead carefully, when the speeding car crashed into their car from the right side.
Read | Delhi: Bureaucrat from Manipur attacked, wife, daughter molested
"We got down from the car to check the damage. Within a few seconds, four men got down from their car and started abusing us. They were drunk. One of them started shooting a video of my wife and when she objected, she was pushed. Our daughter was terrified hearing them hurl abuses. They did not stop filming even when the cops arrived," the woman's husband said.
The couple alleged that the four called their friends and asked them to come to the spot. Within minutes, around 15-20 men came to the accident spot.
"Their elders from the nearby Shahpur Jat area came and blamed us for the accident. We did not know what to do. Fortunately, we saw a police officer on a bike and shouted for help," he said.
Police said that when sub-inspector Sachin saw the crowd, he alerted his colleagues and reached the spot. A PCR van also reached there by then. Police said that when they tried to intervene, the youths tried to flee. One of the youths who was driving the Swift car, tried to flee the spot but he was caught.
A police team later caught the four men, all residents of Shahpur Jat. A case of sexual harassment, rash driving, criminal intimidation and molestation has been registered against the men. Police said all the four youths were drunk at time of the incident.
Read | Road rage: Only exemplary punishment can cure Delhi's power driving trip
Close