Tiranga rally in DU: ABVP seeks action against teachers who raised 'anti-national' slogans
Updated on Feb 27, 2017 08:41 PM IST
At DUSU's 'Tiranga March', ABVP sought action against students of Left Wing organisations who they alleged had resorted to violence and teachers who had raised 'anti-national' slogans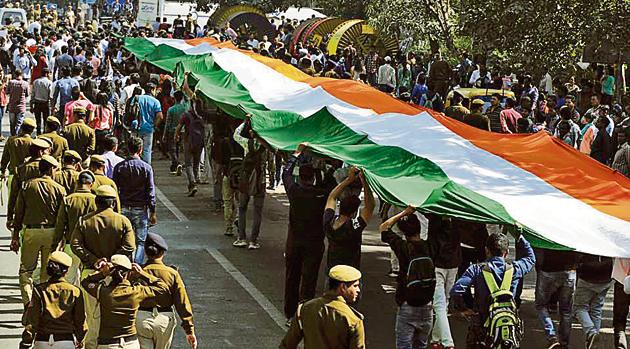 The Delhi University Students Union (DUSU) led by Akhil Bharatiya Vidyarthi Parishad (ABVP) took out a "Tiranga Rally" and marched from Ramjas College to Arts Faculty on Monday. DUSU said the march was called by common students from different colleges and they were leading it.
"This rally is by common students who had asked DUSU to lead it. Students are against those who organised the event and called Umar Khalid. We want action against those from the Left student organisations who indulged in violence and beat up common students," said Satinder Awana, former DUSU president.
Violent clashes had broken out following the cancellation of a literary event at Ramjas college with ABVP on one side and Left Wing student organisations along with students from different DU colleges on the other.
Awana also said that they also want action against teachers who had allegedly raised anti-national slogans at Ramjas college. At the march, students raised slogans against Left-leaning students organisation such as All India Students Association (AISA) and alleged that students from JNU had come to campus on Wednesday and indulged in violence.
"We won't let DU become JNU Part 2. Every student of this university loves the country. We are being accused of indulging in violence but the truth is it was the others who beat up common students," said Ankit Singh Sangwan, general secretary DUSU.
Close Story
Personalise your news feed. Follow trending topics