Indo-Japan relations: Ties that can ensure stability in Asia
Published on Dec 15, 2015 01:55 AM IST
India-Japan relations are moving from purely commercial to genuinely strategic grounds.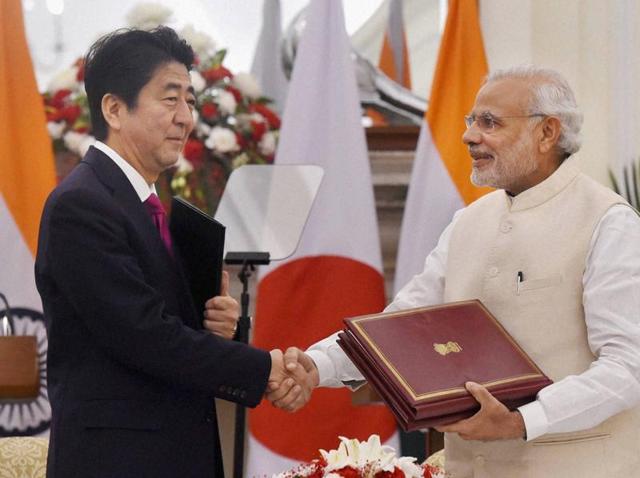 The core of a genuinely strategic India-Japan relationship went critical with the civil nuclear agreement between Prime Ministers Narendra Modi and Shinzo Abe. On the face of it, the two countries have been building such a relationship since 2007. However, moving from high-sounding rhetoric and joint statements to tangibles on the ground has been hard for both countries. Equally difficult has been being able to move from the purely commercial to the genuinely strategic. Both now look a lot more likely after Mr Abe's weekend visit to India.
Tokyo began tacking closer to New Delhi about a decade ago because of the greater strategic interest showed by Washington in New Delhi, Japan's concerns about Chinese belligerence and growing corporate interest in India. But Japan's postwar pacificism and the foot-dragging of bureaucracies on both sides have made this shift difficult to realise. Japan's overall strategy has been to try and build up India economically, by constructing state-of-the-art infrastructure and upping its investment in India, as a balance to China. Under Mr Abe, Japan has also sought Indian support for his plans to 'normalise' Japan in the military and diplomatic spheres. While the bilateral relationship is now almost unrecognisable in its scope and depth from what it was even 10 years ago, the two have still walked around rather than with each other in many areas. India has made civil nuclear agreements its litmus test with advanced countries as to the other country's seriousness regarding a strategic relationship. Japan had skirted the issue because of its Hiroshima legacy. But the failure on this front held up closer investment ties in the energy sphere, military relations and long-term strategic trust. Japan, after all, has elected a pro-Beijing party into office in recent years.
Implementation still remains the key. Completing at least one of the many planned industrial corridors should be high on New Delhi's agenda. This would do in the area of investment what the nuclear deal has done in the strategic trust area. More action on the military, notably the maritime domain, would also be useful. Japan is among the few countries with a genuine ability to transform the Indian economy, pushing into a higher permanent orbit of manufacturing strength and higher growth. Symbolically closer ties would help put China on warning that its increasingly imperialist actions will inevitably lead to bandwagonning against it in the Asia-Pacific area. At a time when the US cannot seem to make up its mind whether it is prepared to stand up to China and the Southeast Asian countries are selling out to Beijing's money power, the India-Japan relationship should be seen as being ultimately about ensuring the stability of Asia as a whole.
Close Story
Personalise your news feed. Follow trending topics