Biggest challenge to India's growth: Low skill levels
India needs to develop its existing low skills levels which pose a challenge to its growth and global competitiveness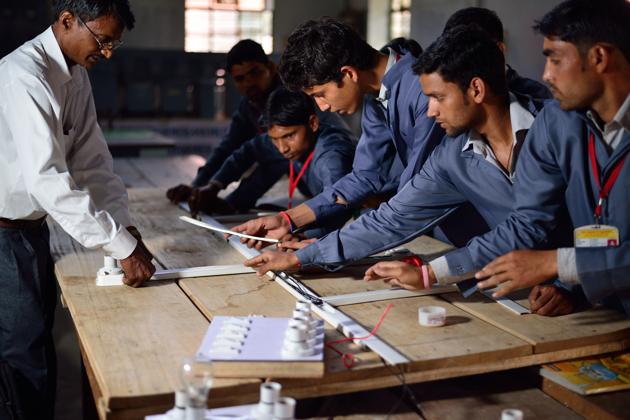 Updated on Jul 11, 2017 07:55 PM IST
India is one of world's fastest growing knowledge-based economies due to its huge human capital. However, given the changing demands occurring from the shift in the labour force from primary to secondary and territory sectors, there is a need to further develop the existing low skills levels which pose a challenge to our country's growth and global competitiveness.
At the moment about 1.2 crore youth need to be skilled and by 2025, another 250 million youth are estimated to enter the Indian workforce. There is tremendous potential for employable youth to enter the workforce if the right steps are followed.
The ministry of skill development and entrepreneurship (MSDE) Rajiv Pratap Rudy had said that his ministry had trained more than 1.17 crore aspirants in various skills through MSDE schemes and programmes since the inception of Skill India. Given advances in trade liberalisation as well as in information technology leading to globalisation, it warrants preparing the Indian economy to absorb the large mass of population coming into the workforce. This requires ensuring that they are skilled to meet the requirement of the sectors that will employ them.
By its own admission in the draft Environmental and Social Systems Assessment (ESSA) report by The World Bank, the Government states that while a range of government and private institutions offer skill training programmes, these suffer from inadequate quality and relevance, lack of coordination within the sector, with insufficient attention to labour market outcomes. In addition, the current training capacity is grossly inadequate to respond to the country's needs.
Education plays a vital role in the development of a country's human resource by creating skilled manpower, enhancing industrial productivity and improving the quality of life. It helps increase the availability of better talent in the job market to be absorbed. However, despite the emphatic stress laid on education and training in this country, there is still a shortage of skilled manpower and the lack of technical and soft skills, resulting in an urgent and growing need to make young Indians job-ready to address the mounting needs and demands of the industry. More than 93% of our workforce still remains unorganised. It is estimated that only 4.69% of the total workforce in India has undergone formal skill training as compared to more than 50% across the developed countries in the world. In the current scenario, of the seven lakh engineering students that graduate annually, merely 7% are fit for core engineering jobs. What also helps is providing training in not just technical skills but also soft skills or communication skills, preparing them to transform into workers from students.
Most institutions do not prepare candidates for the new working world, making them struggle while facing the competencies of the professional realm. There is a pertinent need to equip graduates with interpersonal communication skills, basic computer knowledge, the ability to speak English and work as a team.
One critical hindrance is the lack of standardisation across the skill development courses. At present, the National Skill Development Corporation (NSDC) has approved formation of 40 sector skills councils (SSCs) in different sectors. In order to ensure convergence and optimal functioning of SSCs as per mandate given under the National Policy for Skill Development and Entrepreneurship 2015, it was decided to constitute a committee to review the functioning of the SSCs and provide a roadmap for their harmonious growth to ensure effective development of the skilling ecosystem. But the problem will continue if there is no uniformity in what is taught to a person getting a vocational certification from Bihar and a person from Mumbai. This standardisation is imperative more than necessary. Ensuring standardisation should be one important factor to be added at the core of such a model.
What can be done is strengthening the SSC model by partnering with a PPP model that is based on a global standard of skill assessment and the central authority for skill certification.
The author is CEO, Aptech Ltd, views expressed here are personal.
Close Story
Personalise your news feed. Follow trending topics