CBSE Class 12 topper Raksha Gopal wants to study political science in DU
Updated on Jul 02, 2017 05:10 PM IST
A student of humanities at Amity International School Noida, 17-year-old Raksha scored 100 in three subjects — English core, political science and economics.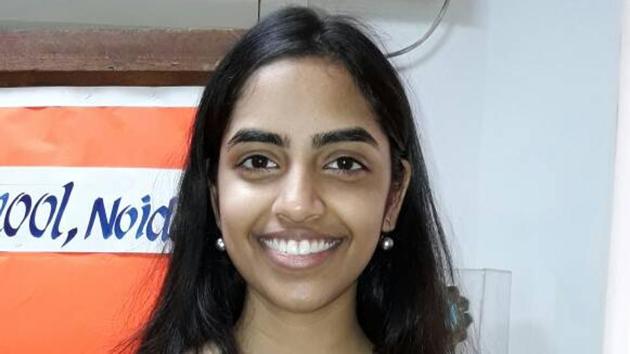 Hindustan Times, Noida |
.Vaibhav Jha
A keyboard player and a voracious reader who is currently learning French — this is how family, friends and teachers describe 17-year-old Raksha Gopal, who scored 99.6% in her CBSE 12th boards to emerge as all-India topper on Sunday morning.
Raksha's elder sister Prerna Gopal says that although Raksha is known today for scoring 99.6% in her boards, she is much more than just that. "She has completed five levels in electric keyboard from a Delhi based institute affiliated with Trinity College of Music, London and she has also completed C1 grade in French from Alliance Francaise. My sister is multi-talented," says 20-year-old Prerna.
A student of humanities at Amity International School Noida, Raksha scored 100 in three subjects — English core, political science and economics — and also managed to score 99 in two subjects — psychology and history. Her aggregate goes to a phenomenal 99.6%. It makes everyone else imagine her as someone who would have stayed buried under books for years. However, her father, Gopal Srinivasan (52), who works as chief finance officer in Gujarat State Petroleum Corporation, says he never put any pressure on Raksha to perform.
Srinivasan says she started winning awards at a young age and the entire school knew that she was 'topper material'. "But we never put any kind of pressure on her. In fact, we forced her to take necessary breaks in between study hours. We clearly told her that we don't have any over the top expectations and she should just give her best without any pressure," Srinivasan adds.
Raksha's mother Ranjni Gopal too says that there was no pressure on her and she was free to make her own choices. "As a home maker, I used to ensure that my daughter gets the necessary sleep and nutrition while she was preparing for boards. There was no pressure from our side and she did not even take any tuitions," said Ranjni.
That Raksha did not take any tuitions for boards examination, says volumes about the kind of confidence she carries. Her elder sister Prerna, who is in her third year, pursuing bio-chemistry honours from Institute of Home Economics, Delhi University, reveals the special bond between them.
"I am three years elder to her, therefore, it was my responsibility to provide her a supportive environment when she used to prepare for boards. She is a multi-talented person who has many interests and she never felt the need to take tuitions," said Prerna.
Her teachers believe that such a performance will open the doors for students who wish to pursue humanities in their graduation.
"Raksha's performance shows that the future is bright for humanities students who wish to pursue courses such as English literature, political science, history or economics after 12th. More career opportunities in mass communication, law and academics are opening," said Monila Sircar, history teacher at Amity International School.
Now, Raksha wishes to pursue political science from Delhi University and is eagerly waiting for the first cut-off. She already has her top three colleges in mind. "I am looking for getting a seat in Lady Shri Ram College, Miranda House or Jesus and Mary College," said Raksha.
Personalise your news feed. Follow trending topics