CBSE re-exam for Class 12 Economics on April 25; Class 10 Maths paper in July for Delhi, Haryana if needed
The re-examination dates for the CBSE Class 10 Maths and Class 12 Economics papers that were cancelled after a question paper leak were announced by education secretary Anil Swarup at a press conference.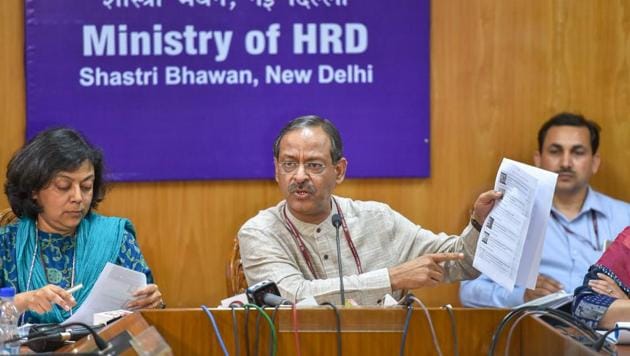 Updated on Mar 30, 2018 11:13 PM IST
Hindustan Times, New Delhi | By HT Correspondent
The government on Friday said that the Central Board of Secondary Education (CBSE) would conduct a re-examination for the Class 12 economics paper on April 25 after a controversy over an alleged question paper leak forced it to scrap the exam conducted earlier this week.
Anil Swarup, secretary, school education, human resource development (HRD) ministry, said the Class 10 mathematics exam, over which too there is a cloud regarding a possible leak of the question paper, would be conducted again in July if needed, but only in Delhi, the National Capital Region (NCR), and Haryana.
CBSE had initially said the mathematics exam was being scrapped too.
Admitting that "some wrong" has happened, Swarup said that preliminary investigations had revealed the leak of the Class 10 paper was restricted to Delhi, NCR, and Haryana that there is no evidence that it is a pan-India phenomenon.
CBSE officials said they got in touch with representatives from other states who informed them that no leak had taken place. He added that a retest would not lead to a delay in the announcement of results. The paper was allegedly leaked on WhatsApp.
A decision on the retest for Class 10 would be taken within 15 days, Swarup said.
On March 30, Hindustan Times reported that a retest for Class 10 could be restricted to Delhi.
In the case of the Class 12 exams, Swarup said the date for the retest is important because students use their scores for seeking admission to colleges and universities. Around 500,000 students have been affected by the scrapping of the economics exam.
In their investigations so far, police have detained six students and a coaching centre owner in Jharkhand. They have also questioned a coaching centre owner in Delhi. Swarup said investigations are progressing on two levels — police and departmental — but authorities aren't yet sure what went wrong.
Swarup clarified that there would be no retest for schools outside India. There are around 200 schools affiliated to CBSE outside the country. He also said the exams could not have been stopped in the first place as the information about the alleged leaks came too late. He claimed a foolproof system would be put in place for the re-tests but declined to provide details on grounds that the information could be misused. A committee will also be formed to bring in changes in the examination processes so that such leaks don't take place next year, he said.
Swarup downplayed rumours about papers for other subjects being leaked. "Some people are trying to play dirty tricks, trying to show a paper on social media which is not the actual paper... most of the information being circulated on the social media is fake."
Swarup said responsibility for the fiasco would be fixed after the investigation is complete. There have been several calls for the head of the CBSE chairperson.
CBSE chairperson Anita Karwal denied she had been questioned by the police. "They were trying to understand the process," she said.
The Crime Branch of Delhi Police has identified over 10 WhatsApp groups, each having 50-60 members who are believed to be involved in the paper leak, one of the biggest scandals to have hit CBSE. The members of the WhatsApp group include private tutors, students and parents.
HRD Minister Prakash Javadekar tweeted: "In the larger interest of academics and students the sensitive Govt has taken a decision not to have nationwide retest in Maths for class 10".
Providing details of the retests, he signed off by saying "So, now no confusion. All the best."
Close Story