Messi says Namaste India, joins BYJU's EFA campaign as global brand ambassador
Jan 11, 2023 12:10 PM IST
In an Instagram post, Lionel Messi wrote: Children are our future. And each child, no matter where they live or where they were born, deserves a fair chance. An equal opportunity to learn and grow. @byjus_app and their world-changing initiative #EducationForAll are helping children from underserved communities with access to world-class educational resources. I believe that this simple initiative has the power to change the world. One student at a time."
Argentina and Paris Saint-Germain star Lionel Messi on Tuesday posted on Instagram with folded hands as he became the global brand ambassador of ed-tech platform BYJU's Education For All (EFA) foundation.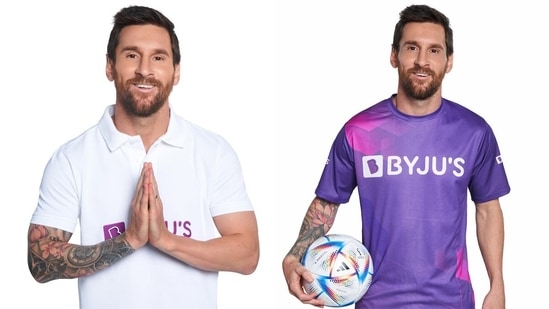 In an Instagram post, the World Cup winning footballer wrote: Children are our future. And each child, no matter where they live or where they were born, deserves a fair chance. An equal opportunity to learn and grow. @byjus_app and their world-changing initiative #EducationForAll are helping children from underserved communities with access to world-class educational resources. I believe that this simple initiative has the power to change the world. One student at a time."
"We are honoured to have Lionel Messi join us in our mission to provide accessible education for all children, regardless of their background or location," said Divya Gokulnath, co-founder of BYJU'S. "Messi's passionate advocacy for education and children aligns perfectly with our own values at BYJU'S, and we look forward to working with him to expand the reach and impact of our Education for All initiative."
"With Messi's famed assist, we are now set to double the reach and impact of EFA in the next two years," she added.
BYJU'S said under EFA, it provides free of cost products to children from disadvantaged backgrounds.
"Based on the four pillars of accessibility, inclusivity, efficacy, and social equity, EFA is now enabling 5.5 million children to learn seamlessly regardless of their locational, physical or financial constraints. It is a first-of-its-kind multi-stakeholder initiative that reaches 400+ districts in 28 states through 175+ NGO partners and multiple state departments and district officials," BYJU's said in a press statement after having Messi on board as global brand ambassador for EFA.
Nearly half of the EFA beneficiaries are girls and several others are from sensitive areas, including border regions and naxal-impacted districts, it added.