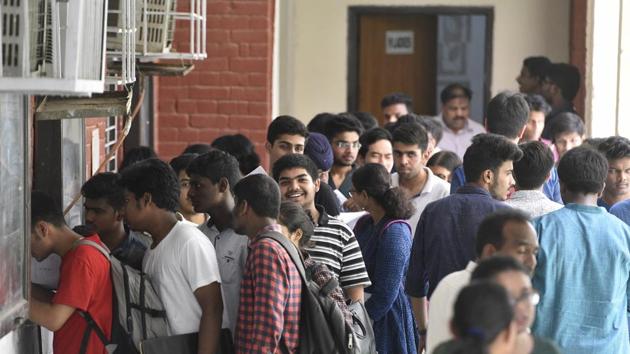 Steep cut-offs make it tough to bag DU seat, students below 90% may not get admission into popular courses
For those seeking admission in Delhi University's on-campus colleges, the competition is tougher with no college offering any of the popular courses for less than 95%.
UPDATED ON JUN 23, 2018 03:29 PM IST
Those who have scored less than 90% have a slim chance of getting admission in popular courses such as B.Com (H), Economics (H) and English (H) in a Delhi University college under the first cutoff list.
For those seeking admission in on-campus colleges, the competition is tougher with no college offering these subjects for less than 95%.
The highest cutoff in the first list is 98.75% at Lady Shri Ram College for BA (Programme), which is a notch lower than last year's highest 99.66% at SGTB Khalsa College for BSc Electronics.
This year, English(H) was the most popular course and it received 1,26,327 applications, the highest for any course. The course is offered in 48 colleges and has 2,284 seats. This means that for every seat around 55 students are competing for admission.
At on-campus colleges, the cutoff for English(H) remained above 95% with Hansraj College increasing it to 97.25% from last year's 97%. At Hindu College ,the cutoff was 98% and it was 97% at Kirori Mal College.
Out of the 46 colleges (except Jesus and Mary and St Stephen's) that offer the course, 26 have announced cutoffs higher than 95%.
"English is the most popular subject and it receives maximum number of applications because students from all streams are eligible for admission to the course. This results in high cutoffs as colleges don't know how many students will actually turn up for admission," a DU official said.
Economics (H), another popular course, has received 96,709 applications. There are 38 colleges offering the course and only three have announced cutoff between 90-95% while the rest 35 have cutoffs above 95%.
There are 2,816 seats in the course across these colleges. Shri Ram College of Commerce, which has 123 seats, has announced 97.75% as its cutoff.
The course is available at 97.50% at Hindu and Hansraj colleges.
Out of the 55 colleges offering BCom (H), only 11 have cutoff between 90 and 95% and the rest have it at 95% and above. There are 6,273 seats in the course across the colleges while 79,421 students have applied for the course.
"Seats are limited for all courses but students get such high marks in board exams so we have to keep the cutoff high to avoid over admission," said SK Garg, principal of Deen Dyal Upadhyaya College.
Officials and college principals had earlier also said that cutoffs were likely to increase marginally, specially for arts and commerce courses as this year 12,737 students scored 95% and above marks in Central Board of Secondary Education Class 12 results. This was 2,646 more from last year.
The CBSE results have a direct impact on the DU cutoffs as at least 80% of the applications received by the university being from CBSE students and the rest coming from various state boards.
Close