Amit Sadh calls himself 'lucky' for overcoming suicidal phase in past: 'It was the people around me who...'
Jan 01, 2023 10:34 PM IST
Amit Sadh shared how talking to people around him helped him to curb his darkest phase in life. He said he struggled with suicidal thoughts when 16.
Actor Amit Sadh in a new interview recalled the darkest phase in his past when he struggled with suicidal thoughts. He said people around him came to his help. He also stressed upon the need to be nice to each other in Bollywood. Also read: Amit Sadh says he wanted to quit Bollywood after Sushant Singh Rajput's death: 'It's society's fault'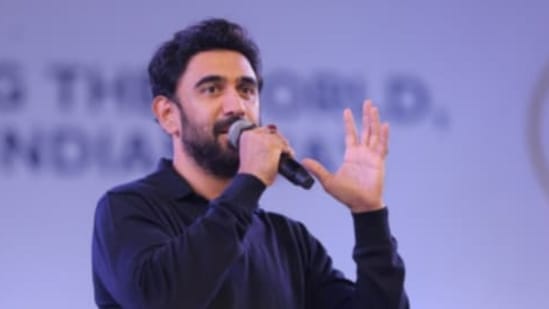 Earlier, Amit had said that he contemplated suicide when he was 16 years old but eventually talked himself out of it. He called it a 'sign of strength' to admit to weakness or failure, and stressed on need for a nurturing environment which can help troubled people. In a different and rather new interview, Amit revealed that he was completely shaken by the news of Sushant Singh Rajput's death by suicide, which caused him thoughts of leaving the industry.
Now talking about what can help someone in such a situation, Amit told ETimes, "People have to become better. We need to become kind and gentle. I have been very fortunate that I've had good people in my life. When I was going through the phase, a few genuine people called me, spoke to me and I felt okay after a few days. Everyone has parents, grandparents and family. But for people in the movie business, we spend the maximum time with ourselves and our colleagues. We tend to work long hours, sometimes 12 to 18 hours on a set. So we end up spending more time with our co-workers than we do with our family."
"Invariably, since we spend so much more time with our industry friends and colleagues it's important to be nicer to each other. We should be more polite. Uss se log bach jate hain (People can be saved that way). It is when we receive love is when we get hope. When you criticize a person, disappoint them, demean them, you will bring sorrow to their life. Jab insaan ki zindagi mein dukh aata hai, uska dimag kharab ho jata hai (People lose their mind when they're subjected to sorrow). Tab woh insaan galat cheezon ke bare mein sochne lagta hai (That's when people start thinking the wrong way). I am talking about this out of my own experience. I was lucky and fortunate that I got out of that phase, but it was the people around me who helped me. We just need to be nice to each other irrespective of whether you are a big star or a small technician," he further pointed out.
Amit Sadh will be next seen in an upcoming film, based on his play Pune Highway. He was last seen in Breathe : Into the shadows Season 2.
SUICIDE HELPLINE INFO:
If you need support or know someone who does, please reach out to your nearest mental health specialist. Helplines: Aasra: 022 2754 6669; Sneha India Foundation: +914424640050 and Sanjivini: 011-24311918