Did you know Swades was inspired by a 90's show with Ashutosh Gowariker in Shah Rukh Khan's role? Watch here
Ashutosh Gowariker's film Swades completed 17 years on Friday. The critically acclaimed film is still considered one of his best works.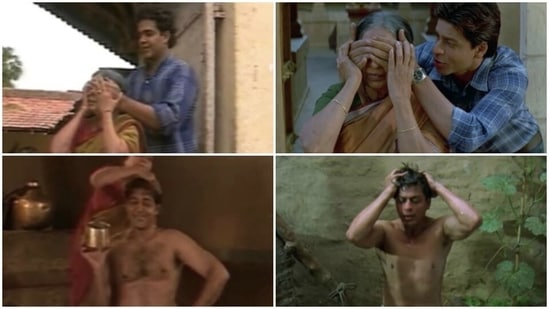 Updated on Dec 18, 2021 01:25 PM IST
Ashutosh Gowariker's critically acclaimed film Swades completed 17 years of release on Friday. The film, which starred Shah Rukh Khan in the lead, was about an NRI NASA scientist Mohan Bhargava, who returns to India to meet his old caretaker and bring her with him to the US. However, the people and the country carve a special space in his heart and he is unable to break away.
Swades has long been considered as one of Ashutosh and Shah Rukh's best works but did you know that a 90's show on ZeeTV was seemingly what inspired it? An anthology titled Love Stories included an episode titled Vapasi. In it, Ashutosh played Mohan, an NRI who comes back to India for his Kaveri amma. There he falls in love with a woman named Geeta.
Not only did Ashutosh play the original Mohan, Kaveri amma's role was also played by late actor Kishori Ballal in both the iterations. While Gayatri Joshi played Geeta in Swades, another actor was cast in the role in the TV show.
In the episode, which is available on ZeeTV's YouTube channel, Mohan arrives in India in his caravan to bring Kaveri amma along with him to the US. Geeta, however, doesn't allow it to happen. Mohan falls in love with the feisty Geeta, a school teacher, who is always quarrelling with him.
Also read: Swades turns 17: Ashutosh Gowariker shares story behind the audition of 30 women for Dadi Setu's role
In between it all, Mohan finds time to teach his fellow villagers about fax machines and more. While the love story took the centre stage in the show, Mohan's guilt about leaving his country behind and his duty towards his fellow people formed the heart of the film. In Swades, Mohan, with help of the villagers, starts up a small hydroelectric project to bring electricity to his village.
The film's plot is also inspired by Aravinda Pillalamarri and Ravi Kuchimanchi, who returned to India and developed a pedal power generator.
Close Story
Personalise your news feed. Follow trending topics