Nikamma stars Abhimanyu Dassani, Shirley Setia denied entry at their own event: 'Keep us sending from here to there'
Published on Jun 06, 2022 11:15 AM IST
Abhimanyu Dassani and Shirley Setia were denied entry at a promotional event for their film Nikamma. Apart from Abhimanyu and Shirley, Nikamma also stars Shilpa Shetty.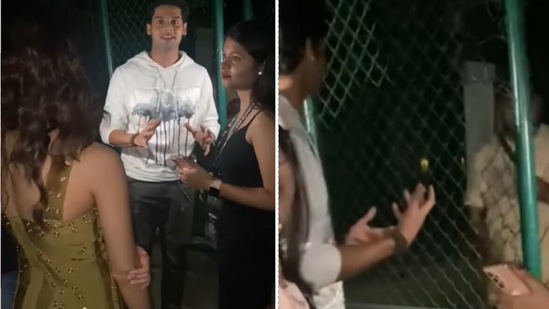 Abhimanyu Dassani and Shirley Setia, who are currently busy promoting their upcoming film Nikamma, were denied entry at an event for their own film. Abhimanyu took to his Instagram account to share a video of the incident, in which he was trying to explain to a guard that he is there to promote his film. The promotional event was held at DY Patil Stadium in Navi Mumbai. Also Read| Nikamma trailer: Shilpa Shetty dons superhero avatar to fix a lazy Abhimanyu Dassani, fans call it 'disastrous' already
The video showed Abhimanyu with Shirley Shetia and others trying to convince the guard to open the gates while the film's title song and cheers could be heard in the background. He said to the camera, "We are at the Nikamma event, and we are not allowed there. I don't know, locked out of our event." He then told the guard that his name is Abhimanyu, and he is an actor who is there to promote the film. The person responded by saying, "Udhar kisi ko bolo na (tell someone there)." Abhimanyu added to the camera, "This is what happens. They keep us sending from here to there," while the guard walked away.
Abhimanyu, who is actor Bhagyashree's son, shared the video on his Instagram account with the caption, "#QuitPlayingGamesWithMyLife. My 3rd film and life goes on." He added the hashtags "#truestory and #reallife." Reacting to the video in the comments section, his sister and actor Avantika Dassani joked, "This is what happens to nikamma's. @abhimanyud @shirleysetia." It appeared that Abhimanyu and Shirley later made it to the event as they shared pictures and videos from the stage.
Fans recalled that Abhimanyu was previously denied entry at Toronto Film Festival as well where he had gone for the screening of his debut film Mard Ko Dard Nahi Hota (2018). A fan wrote, "Don't worry, aaj ye duniye tumhe nehi pechante, kal yehi duniye tumhare peeche aayegi (Today they don't recognise you, tomorrow they will follow you). Mark my words." Another commented, "Why is this making me laugh and sad at the same time?"
Apart from Abhimanyu and Shirley, Nikamma also stars Shilpa Shetty as a superhero, who will turn Abhimanyu's lazy character Siddharth into a responsible man. The action-comedy, directed by Sabbir Khan, will release in theatres on June 17.