See Sidharth Malhotra's reaction at a bash as a guest teases him 'iski bhi hone wali hai shaadi'. Watch
Jan 09, 2023 09:31 AM IST
Sidharth Malhotra was teased about his own wedding as he attended an engagement party in Gurugram during the weekend.
Sidharth Malhotra recently attended a lavish engagement bash in Gurugram where he grooved with the guests and also taught a few dance steps to the groom. As he was talking about 'Delhi ki ladkia, Dilli ki shadi', he was also teased about his own wedding. After raising his hands in the air in surprise, he chose to escape the situation by quietly walking away from the stage. Also read: Kiara Advani, Sidharth Malhotra return from Dubai vacation, fans say 'can't wait for their wedding'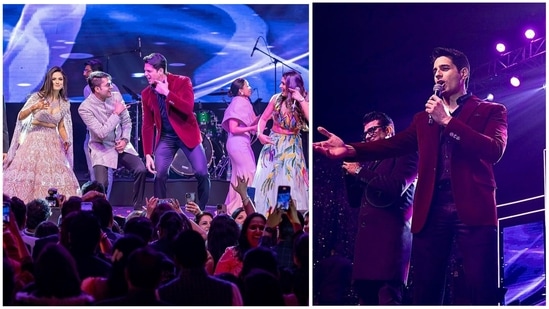 Actor Aarti Khetarpal shared several pictures and videos from the engagement bash on Instagram and captioned it, "Bringing our very own Delhi boy @sidmalhotra at my dearest @lovebansal @nandini.15's engagement to begin our family's biggggggggg fat Indian wedding."
Decked up in a black shirt and black trousers paired with a burgandy blazer, Sidharth danced with the bride and groom and their other family members on stage. He also talked about Delhi wedding in winters.
A video shows him saying, "Dilli ki shadio ki baat hi kujh aur hai (there is something special about Delhi weddings)." He was joined by a guest who talked about the Delhi winter and called Sidharth 'the hottest man in the world'. Taking cue from him, Sidharth added, "We have the hottest girls right here man. Dilli ki ladkia, Dilli ki shaadi (girls and weddings in Delhi are special)." The guest went on to tease Sidharth, adding, "Isiliye Dilli ka ladka, iski bhi hone wali hai shaadi (that's why, this is the Delhi boy who is all set to get married soon)." Sidharth raised his hands in the air in amazement before quietly walking away from the stage.
Another video showed Sidharth guiding the groom about how to perform on the Manike song from his film, Goodbye. He bent down and stretched his hands and asked the groom to do the same for the bride.
Sidharth is currently dating his Shershaah co-star Kiara Advani. The two are rumoured to be planning to tie the knot within a month. None of them have neither confirmed nor denied any rumours related to their relationship or the wedding.