Sona Mohapatra: I'm not just a pretty face or voice, I've always wanted a seat at the table
Published on Mar 06, 2022 04:43 PM IST
This Women's Day, singer Sona Mohaptra is battling for more women to be in the driving seat in the music industry, something that we don't see much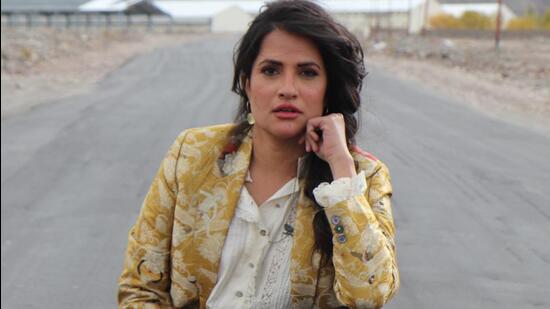 This Women's Day, singer Sona Mohaptra is battling for more women to be in the driving seat in the music industry, something that we don't see much.
The singer, who is doing that herself with her Noor trilogy which is a musical venture which see a woman is in the driving seat, both literally and metaphorically, says, "I come from a padha-likha background, have an Ivy League BTech & MBA degree, worked with FMCG brands and played the role of a successful producer in my production house for years, before my artiste career really took off commercially. I've always wanted a seat at the table, not just be a pretty face or voice and have never been shy about stating it."
The Ambarsariya (Fukrey; 2013) singer says it is important for women to take control of their career.
"If the fate of my career is on the line, I'd much rather fail on my own terms rather than handing over the reins to someone else who'll decide what is right for me. We do need more women in places of power in the music industry, but more importantly, we need good A&R (Artists and repertoire) people with vision and an artistic appreciation for the depth of Indian music who can nurture the next generation of Indian artists for the long term," says the singer, who made a musical documentary feature film, Shut Up Sona with Deepti Gupta which is up for a mid 2022 India release after winning several top international film festivals and then the National Award recently.
The singer goes on to talk about the ay the place of female musicians in India has changed or evolved over the years.
"Things like women's rights don't improve on their own. A lot of good people have fought the good fight to make it happen and continue to. It's the same with the state of female musicians in our country. We've been chipping away at the few avenues and opportunities available to create a space for ourselves," says Mohapatra.
The singer says this is the situation despite someone as revered as Lata Mangeshkar herself, "was the only one in her times, among men and women, who stood up for issues like copyrights and royalties for recording artistes and created a special place for singers & more so, accorded dignity, stature to our gender in the profession in India"
She feels speaking up is the only way to keep things moving in the right direction. "Personally, I've found that it helps to be outspoken and frank about your opinions because the debate it stirs is a healthy one. I cannot speak for all female musicians because there's no real 'sisterhood' between the females in this industry; it's mostly dog eat dog, but in my experience, I've found things to be steadily improving & the partnerships I've been able to garner have been extremely fruitful in the long term," she asserts.
Further talking about the Noor trilogy, which she mentions is a 'woman on top/in the driving seat ' project, she says, "Noor is Part 1 of the chronicles of 'What Women Want'. I've conceptualised, produced and executed this project myself. I plan to tell this musical story in the form of music videos and songs. Coming to the first release, over the years, the culture of the 'free spirited traveller, who lives on the road' is mostly built around men, for reasons of safety, societal norms, hygiene, maybe. I've been a solo-tripper, gypsy spirit all my life. I love being on the road and biking as a source of nourishment for my soul. So, I see myself as part of the lineage of women who want to claim this kind of freedom as theirs as well.."
Mohapatra shot for the Noor video in Leh-Ladakh in extreme temperatures of minus 10 degrees. "This also puts a spotlight on the changing power dynamic between women and men in the world with an underlying theme of a younger man smitten by a powerful and feminine woman," she concludes.
Personalise your news feed. Follow trending topics