Debina Bonnerjee uses Kareena Kapoor's Jab We Met line to respond to those who question her ability as a mother. Watch
Published on Jun 06, 2022 06:01 PM IST
Debina Bonnerjee lip-synced Kareena Kapoor's line from Jab We Met as she responded to those who question her ability as a mother. Debina and Gurmeet welcomed their daughter Lianna in April. Watch her new video.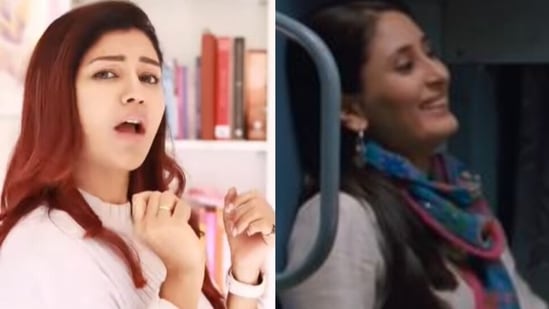 Actor Debina Bonnerjee, who recently became a mother, has responded to the people who question her abilities as a mother. Taking to Instagram, the actor channelled her inner Geet, played by actor Kareena Kapoor in Jab We Met, and shared a video. Debina lip-synced to Kareena's line from the film. (Also Read | Debina Bonnerjee responds to those asking why she calls her mother-in-law 'aunty' and not 'mummy')
In the video, Debina lip-synched to the line, "Magar it's okay hann. Mujhe bura nahi lag raha hai. Actually, mujhe aajkal kisi baat ka bura nahi lag raha hai (But it's okay. I'm not feeling bad. Actually, these days I don't feel bad about anything)." In the film, the Kareena said it to co-star Shahid Kapoor as they travelled in the train together.
In the video, Debina added a few comments she has received on social media. The text read, "You can't hold your baby properly......You are a mother how can you have long nails...blah blah (tongue emoji)." She captioned the post, "Zen mode on (smiling face with halo emoji)..#justforfun #(smiling face with horns emoji)."
Reacting to the post, a fan wrote, "How to be classy and savage at the same time !! Perfect example !! People take classes." "People have issues with almost everything these days!" read a comment. "Debi mam you just enjoy your motherhood we love you, god bless you," said another person. "Sooo Relatable, sailing the same boat ma'am," commented a fan.
Last month too, Debina had replied to those who questioned her about handling her baby. Debina had shared a photo with her daughter Lianna, husband-actor Gurmeet Choudhary and their mothers. She wrote, "So many questions you have!! Why I hold my baby a certain way..Why I call my mother in law aunty and not mummy... Any more questions? All I say is I m surrounded by a few pair of protective hands as you can see.. who says it's all fine."
Speaking with India Today, Debina had said, "When people try and give an opinion on how I should treat my baby, it doesn't bother me, but it is hurtful. I know, as an actor, I am used to trolls, but this role of mine is new. It is hurtful when people say things like 'at least hold the baby correctly'. People do not understand that I am the mother and if I am holding the baby I have brought into this world with so much love, why would I be careless? If I feel that the baby is comfortable and I am comfortable holding my baby that way, I am such a strong person, and my one hand is enough to hold her."
Debina and Gurmeet welcomed Lianna in April this year. The couple shared the news as they gave a glimpse of their daughter's hand. "With utmost gratitude we welcome our baby girl into this world. 3.4.2022 Thank you for all your love and blessings. Love and gratitude Gurmeet and Debina," the caption read.
Personalise your news feed. Follow trending topics