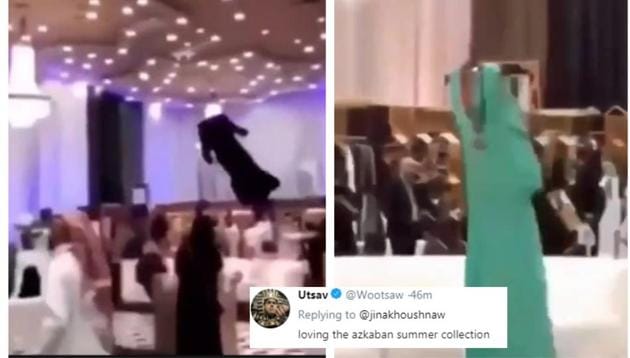 Saudi Arabia's fashion show causes stir online after replacing models with drones
A fashion show in Saudi Arabia's capital Riyadh featured drones instead of models.
UPDATED ON JUN 08, 2018 02:27 PM IST
This fashion show in Saudi Arabia would definitely be on top if we were to make a list of bizarre things on the internet this week.
A video of the event in Saudi Arabia's capital Riyadh showing drones carrying designer clothes has gone viral on social media. Shared by Twitter user Jina on Wednesday, the tweet has amassed more than 102,000 retweets and over 175,000 likes within a few days.
The event saw several high-end fashion brands - including Dolce & Gabbana - showcase their designs but featuring drones instead of models wearing the creations, The News Arab reported.
Media reports suggest that the event organisers used drones in the conservative country to make the show "Ramadan appropriate".
But social media users couldn't help comparing the spooky sight of floating dresses to that of "dementors" from Harry Potter book series or a "ghost fashion show".
"A fashion show in Saudi Arabia is like a ghost film," wrote one user.
'Where'd they get the models? Hogwarts?' wrote another.
Some even questioned the state of women's rights despite the recent reforms undertaken by the Middle Eastern country.
"Saudi Arabia, where drones have more rights than women," a user said.
Earlier this year, Saudi Arabia hosted its first ever fashion week as a result of the Crown Prince Mohammed bin Salman's bold 'liberalising' reforms. However, the audience was female only, and male designers were banned from backstage even at their own shows.
Close