This documentary on plus-size models will change how we look at female body
The film will show women of all sizes, ages and ethnicities. Its most important message? One beauty ideal is no longer better than the other.
fashion-and-trends
Updated: Jun 01, 2016 20:23 IST
For decades, we've been discussing the lack of diversity when it comes to the fashion world - from size and skin to colour and age.
We continue to see a lot of media attention surrounding it, but there hasn't been much effort to organise the conversation until now. New York City-based journalist and documentary filmmaker Jenny McQuaile wants to tackle the issue head on and make a lot of designers, agents, and influencers in the industry very uncomfortable.
She wants to change the portrayal of what an 'ideal' body looks like and help people embrace beauty in all forms.
"We want to create the imagery we should see more of in the fashion industry and the media," McQuaile told PEOPLE of her upcoming documentary, Straight/Curve.
Read: 10 playful drawings that nail every woman's body image woes
"The film will show women of all sizes, ages and ethnicities. It's so important that all women be able to look at the fashion world and magazines and see people they can look up to and relate to."
In Straight/Curve, McQuaile interviews fashion editors, designers, agents, stylists, models and other pioneers in their industries who are pushing for a more inclusive view of what's beautiful.
Their most important message?
Read: 'Plus-size' Disney princesses show beauty comes in all sizes
One beauty ideal is no longer better than the other.
"We want to see all versions of beauty represented, and for the standards in society to shift away from the white thin ideal. The world is a melting pot of colours and shapes and ages, and the fashion industry and media should mirror that, not run away from it," McQuailled said.
She believes that images that portray being fair and thin as something to aspire to can be harmful, especially for young women.
"Think about the millions of people who wake up every morning and look in the mirror and feel truly terrible about themselves because of the messages the fashion industry and media are putting out," says McQuaile.
Read: What a 'perfect woman' looks like in 18 countries
"We have to empower the next generation of girls to love and respect their bodies so they can stop worrying about what they look like, and start focusing on their brain power, their skills and their strengths."
Part of making that change is identifying why there has been such a lack of diversity in the women who appear in magazines and on runways.
"A main obstacle is the misconception surrounding health and body weight. The women in our film are the epitome of health - at a size 0 and at a size 18. To judge someone's personal health by looking at their body size or shape is negligent."
Read: A4 waist challenge, the unrealistic 'fitness' trend sweeping China
Straight/Curve releases early 2017.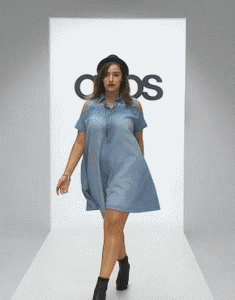 Thanks to outspoken advocates like McQuaile, as well as online movements like #Droptheplus, today's plus-size models have made it clear that they're not content with just sitting on the sidelines.
Let's take a look at five curvy beauties that are the hottest in the business and prove that beauty comes in all shapes, sizes, and ethnicities.
1 Denise Bidot
2 Louise O'Reilly
3 Candice Huffine
4 Tara Lynn
5 Fluvia Lacerda