Depression in mothers can hurt child's IQ, even in their teenage
Depression in mothers, if left untreated, can negatively impact the child's cognitive development up to the age of 16. Treatment of maternal depression is key to healthy children.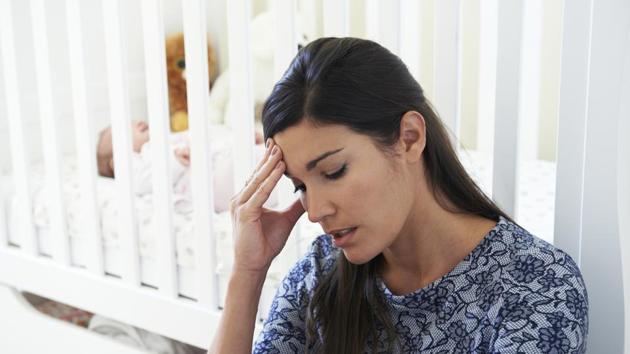 Updated on Apr 17, 2018 01:48 PM IST
Many mothers - whether they are new to motherhood or are bringing up children of different ages -- go through phases of blues. Maternal depression is common post child birth; it is often called baby blues. Feelings of helplessness, fatigue, poor sleep, all combined with the new responsibilities of motherhood can often be overwhelming to a new mother. 1 in 9 women experience depression before, during or after pregnancy.
Now,according to a study -- published in the journal Child Development -- when a mother's depression goes untreated, it can negatively impact a child's cognitive development up to the age of 16. The findings suggest that early identification and treatment of maternal depression is key to healthy growth of her children.
For the study, researchers surveyed about 900 healthy children and their mothers living in Santiago, Chile, at five-year intervals from the child's infancy through age 16. They observed how affectionate and responsive mothers were to their children at each age period, as well as how much mothers provided age-appropriate learning materials.
Impact on IQ
These children were then assessed on verbal cognitive abilities using standardised IQ tests. Mothers were also tested for symptoms of depression.
"The consistency and longevity of these results speak to the enduring effect that depression has on a mother's parenting and her child's development," she added. On a scale from one to 19, the average verbal IQ score for all children in the study at age five was 7.64. Children who had severely depressed mothers were found to have an average verbal IQ score of 7.30 compared to a score of 7.78 in children without depressed mothers.
The difference in IQ
The difference may seem small (from 7.78 to 7.30), but it was highly meaningful when it comes to assessing the child's verbal skills.. "Our study results show the long term consequences that a child can experience due to chronic maternal depression," she added.
East said study data suggested approximately 20% of mothers who are severely depressed when their child turns age one remain depressed for a long time."For health care providers, the results show that early identification, intervention and treatment of maternal depression are key," said East.
What are the solutions
First and foremost, a complete evaluation is needed to identify whether the mother is depressed and the degree of the condition. This test will also help the health care provider understand trigger points. It is important to continue follow-ups to make sure that the treatment is complete.
According to another study published in the British Journal of Psychiatry, mothers who sing in groups with their babies may overcome the symptoms of post-natal depression more quickly. Singing workshops saw the mothers learning lullabies and songs from around the world with their babies and creating new songs together about motherhood. Those with moderate to severe symptoms of post-natal depression reported a much faster improvement than mothers in the usual care and play groups.
(With inputs from IANS)
Follow @htlifeandstyle for more
Close Story