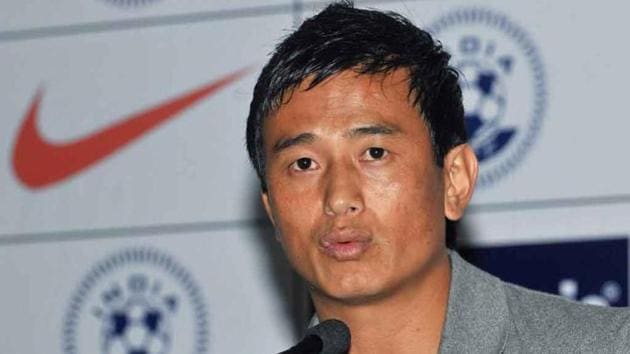 Indian Super League expansion should not harm I-League: Bhaichung Bhutia
Bhaichung Bhutia believes that the Indian Super League's expansion plans will not cause any harm to I-League or the clubs competing in the tournament.
Mumbai | By HT Correspondent
UPDATED ON JUN 04, 2017 10:41 AM IST
Bhaichung Bhutia feels the expansion of the Indian Super League (ISL) is a step in the right direction for Indian football but should not come at the cost of the nation's premier club competition, I-League.
The former national team captain supported the idea of both leagues expanding to seven months, over the current three-month competitions.
Asked about ISL's invitation for more franchises, Bhutia said it would help generate more employment for Indian footballers but needed a longer duration, something the I-League should also be looking into.
READ | ISL-I-League merger: Finding backers for Mohun Bagan, East Bengal key to start
"Increasing the number of ISL teams is no problem; it is very welcome since it will increase the employment opportunities for Indian players," Bhutia told HT over the phone.
"But if you are going to have more teams playing within three or four months, schedules are going to be even tighter. So they will have to give it more time. But if they give seven months to ISL and have only three months for I-League, it will be unfair. Both leagues have to be seven months and they have to be conducted simultaneously," he said.
Bhutia is advisor to the All India Football Federation (AIFF) and is a former head of the federation's technical committee. He said AIFF president, Praful Patel's idea that the ISL and I-League be conducted over seven months each should be carried out for the betterment of Indian football.
However, he felt each league should have at least 10 teams and should be played at the same time so that more Indian players can be employed.
Bhutia also shared his thoughts on the proposed 'Super Cup' to decide India's representatives in Asian Football Confederation (AFC) tournaments.
Currently, winner of the I-League enters AFC Champions League play-offs while the Federation Cup winner competes in the AFC Cup.
READ | ISL expansion: What IMG-Reliance's move means for AIFF and I-League
Bhutia said I-League winners should continue playing the Champions League — since it is recognised as the main league of the country — while ISL teams can be given an opportunity to qualify for the AFC Cup via a knockout Super Cup.
"Four top teams from I-League and four top teams from ISL directly go into the Super Cup. The next four teams in each league can have a play-off from which four can be shortlisted for the Super Cup. Then the Super Cup is played in a knockout format and the winner can take the AFC slot.
"At the moment we have the Federation Cup, but it can be replaced by the Super Cup so ISL teams can also qualify for AFC competitions," he said.
Close