Luka Modric says Golden Ball 'bittersweet' after FIFA World Cup 2018 defeat
AFP, Moscow |
Agence France-Presse
Jul 16, 2018 10:05 AM IST
Luka Modric-led Croatia dominated the opening period of FIFA World Cup 2018 final against France but finally wilted
Croatia captain Luka Modric said being awarded the Golden Ball for the World Cup's best player was "bittersweet" after losing the final 4-2 to France on Sunday.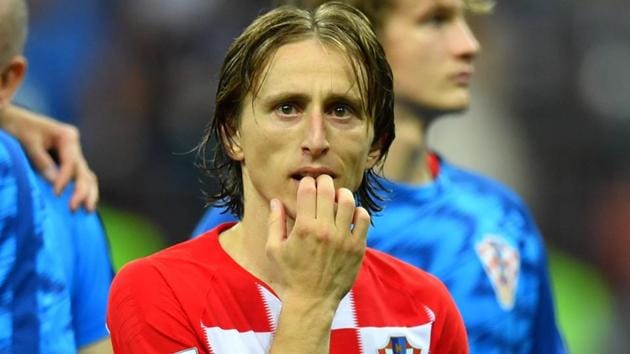 "Obviously I liked the recognition and thanks to those who chose me, but clearly I would have preferred to have won the World Cup," said the Real Madrid midfielder.
READ | FIFA World Cup 2018: Croatia's Luka Modric wins Golden Ball award
"It wasn't to be and now we will rest and in the coming days celebrate this because it is still a huge thing for Croatia, but right now the feeling is bittersweet.
"We are proud of what we have done, but a bit sad at losing the final." Despite being forced into extra-time in all three of their knockout rounds before the final, Croatia dominated the opening period and were desperately unlucky to trail 2-1 at half-time through Mario Mandzukic's own goal and a controversial Antoine Griezmann penalty.
READ | Vive la France! And a lot of other nations too, as migrant sons lift FIFA World Cup 2018
The smallest country to make a World Cup final in 68 years, with a population of just over four million, finally wilted after the break as Paul Pogba and Kylian Mbappe added to France's lead before Mandzukic pulled a goal back.
"Although I think we deserved more, we can't change anything," added Modric.
"We can only be proud of what we did -- we never gave up and fought until the end."
With the score at 1-1, France were awarded a penalty after Argentine referee Nestor Pitana reviewed video footage of an Ivan Perisic handball.
READ | Argentina win was the trigger: Didier Deschamps after France's Cup triumph
Croatia were doubly frustrated by Pitana's decision as France's opener also came from a dubious free-kick.
"The small details went in favour of France. It is a shame because I think we were very, very good and deserved to win," said Croatian midfielder Ivan Rakitic.
"It is a shame that they didn't review the foul before the first goal and only the one that went against us.
READ | They didn't play football: Dejan Lovren blasts France after World Cup loss
"The foul for the first goal is clearly not a foul, the penalty is very, very dubious... it hurts a lot to lose like this." Croatia coach Zlatko Dalic insisted VAR was a "good thing" for football despite Pitana's call going against his side.
But Rakitic believes improvements can still be made to the system that was being used in the World Cup for the first time.
"I understand they want to improve things with VAR, but there is still margin for improvement," he added. "It has helped a lot but it is still not perfect."