Development should be planned to cut loss of Gurugram's green cover
While there are many benefits of city life, it is crucial to recognise that unplanned and destructive urbanisation will cause problems to us all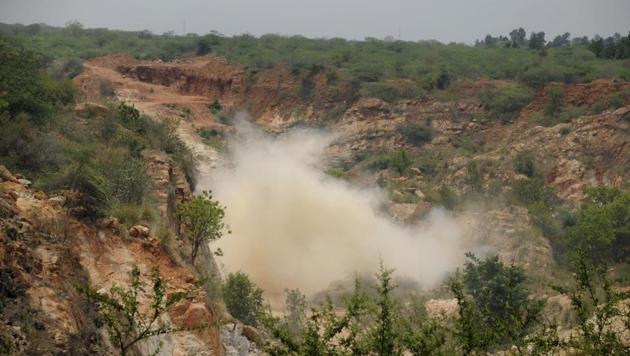 Published on Sep 20, 2018 01:56 PM IST
A news item last week mentioned that parts of the Aravalli range, which act as groundwater recharge zones for the national capital region (NCR) around Delhi may be excluded from the natural conservation zone (NCZ) category. This will lead to greater development of real estate into forest lands which hitherto had been protected. While the entire Aravalli range was supposed to be NCZ, we find that the administration is now talking about changing this.
This is wrong on so many counts. We are already facing the effects of destroying forest cover to build Gurugram. These include increased pollution and depletion of water sources among others. Further, the encroachments upon the forest have eaten into the natural habitat of the animals. There were over 200% more snakes discovered in the city this year. Gurugram is also known to have a monkey menace. Monkeys have been spotted even on the tenth floor of apartments opening the fridge and helping themselves to whatever they want. But more dangerously, they have attacked people.
In building over large tracts of forest and semi forest land in and around Gurugram, we have taken away the natural habitat of these monkeys and other animals. In fact, there was even a leopard sighting on Sohna Road in 2017. Until a few years ago, you could see nomadic communities from Rajasthan herding their goats and sheep through Gurugram as part of their route. As the city has grown, this has disappeared. This is of course a problem in all cities. This week, the Bombay High Court passed a judgment protecting the mangroves and freezing construction, which could have destroyed the natural protection provided by them.
Of course, it can be argued that all urbanisation has been encroachment on land which was agricultural, open fields or forest. But urbanisation is growing at a rapid speed today and statistics show that from being a predominantly agricultural society, we may be more than 50% urban by 2030. While there are many benefits of city life, it is crucial to recognise that unplanned and destructive urbanisation will cause problems to us all. Look at the flooding of Gurugram roads every year during the monsoon.
Trees are being cut ruthlessly for building roads. Over 9,000 trees have been cut for underpasses and flyovers in the past few years alone. There is practically no tree cover on most of the streets. Road dividers are no longer being planned as a mini green belt.
Urbanisation needs to be done in a planned and careful manner. Trying to bypass laws and rules will lead to instances like Kant Enclave in Faridabad, where the Supreme Court had to come down heavily as the property had been built on protected land. Environmental concerns are often thrown to the winds in the name of development. The writing is on the wall — unplanned development has led us to the situation prevalent many Indian cities, including Gurugram.
The question is, "Is it possible to build cities that cause less damage to the environment?"
(Kalpana Viswanath works on issues of women's safety and rights in cities)
Close Story