Migratory birds start flocking to Basai wetland in Gurgaon
Nov 22, 2017 10:39 PM IST
Every year, the wetland houses more than 30,000 birds from different parts of the world, mainly the northern hemisphere, in the winter as they move to warmer locations in search of food and shelter
Hundreds of ducks, waders, terns, raptors and other species of migratory birds have started flying to the Basai wetland over the last fortnight.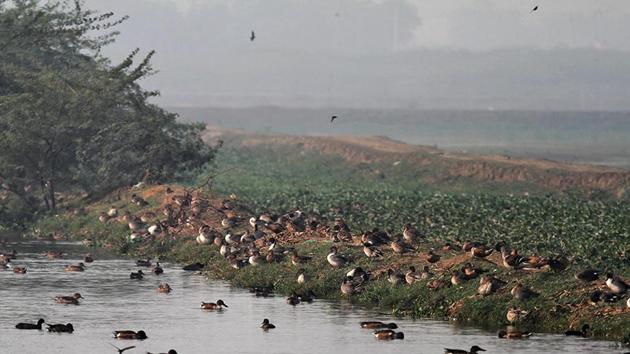 Every year, the wetland houses more than 30,000 birds from different parts of the world, mainly the northern hemisphere, in the winter as they move to warmer locations in search of food and shelter. The wetland is located eight kilometres from the Sultanpur National Park.
At present, there are around 2,000 migratory birds in the area, according to estimates of birders. Experts said that the number will increase by the end of this month.
Bird enthusiasts have also started flocking the wetland in the early morning and evening hours to observe the habits of migratory birds.
Experts said that the 700-acre wetland is flooded with a number of duck species, including the gadwall, mallard, ruddy shelduck and common pochard.
Birders captured pictures of various birds including the bar-headed and greylag geese, northern pintail, plovers, Isabelline shrike and the stunning green-winged teal.
Some of the regular migratory species that are prominently visible in Basai wetland comprise the yellow-legged quail, song thrush, tickell's blue flycatcher, marshall's iora and grasshopper warbler.
Experts said that these birds make an annual visit to the wetland from Russia, Europe, Siberia, central Asia and Afghanistan.
Last year, around 300 species of birds were spotted in the wetland. Surajit Ghosal, a birder, said, "The Basai wetland is a delightful sight in winter as it turns into a haven for migratory birds. These birds have a pattern and they follow a specific path to travel long distances."
Experts said that the Basai wetland is a blessing and it is high time that swampy areas that house birds are preserved. "Migration is a complicated process as it involves many parameters. It indicates healthy ecology," said Pankaj Gupta, a birder of Delhi Bird Society.
Apart from Basai wetland, the Sultanpur National Park is also witnessing an influx of migratory birds. "The park is all set to welcome the birds. There is adequate food in the waterbody for the birds and we have made mounds for them to roost," said Vinod Kumar, conservator of wildlife, south Haryana.