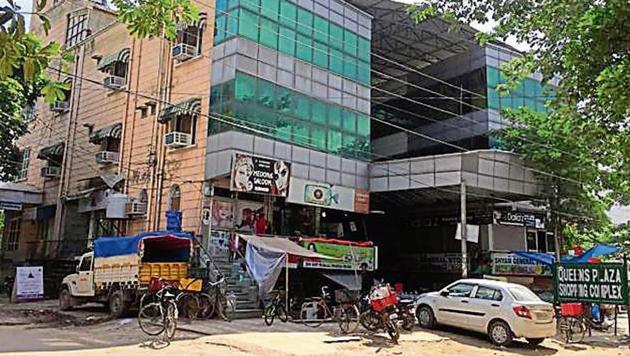 Residents want 'illegal' borewell in Sushant Lok C-block sealed
The residents of Sushant Lok are alleging that the district hydrology department has not sealed the 'illegal' borewell installed at Queen Plaza commercial complex in C Block of Sushant Lok
Hindustan Times, Gurugram | By HT Correspondent
PUBLISHED ON AUG 16, 2018 05:07 AM IST
The residents of Sushant Lok are alleging that the district hydrology department has not sealed the 'illegal' borewell installed at Queen Plaza commercial complex in C Block of Sushant Lok.
The residents said that the hydrology department on July 24 had granted 15 days time to the owner of the Queen Plaza complex asking for proof that the borewell was legal.
The hydrology department said that the owner of the complex submitted a reply and it is under examination.
The residents, however, said more than 20 days have passed, but the borewell has not yet been sealed.
SS Rai, a complainant, said, "We fail to understand why the hydrology department has not initiated action. We objected to the 15 days' time granted to the complex owner and soon after officials inspected on July 24, we filed a complaint at the CM Window. We have met the district town planning (DTP) enforcement officials. Despite our efforts, no action has been taken."
In January 2017, the residents had lodged a complaint with the deputy commissioner's (DC) office, stating that the Queen Plaza commercial complex had got installed an 'illegal' borewell, is running a hotel in the basement and encroaching public utility spaces.
In October 2016, the residents' welfare association (RWA) of the colony had filed an RTI and obtained the layout plan of the complex and information of the borewell.
In the RTI reply, the district hydrology department had confirmed that the borewell in question did not have permission from the department.
The residents said that the commercial complex has appeared as big nuisance for them as it is surrounded by thickly populated residential houses.
"The hotel remains open till late night, visitors park vehicles on the road around the complex and this all creates a big nuisance for all of us," said Anil Sharma, former RWA member of Sushant Lok, adding that the borewell water is being used by the hotel.
"We cannot seal the borewell as owner contended that it was installed much before 2011, when the area was notified for extraction of groundwater by the Central Ground Water Authority (CGWA). We are examining the documents submitted by the owner in this regard," said BS Lamba, district hydrologist.
Amit Madholia, assistant town planner, enforcement, said, "We will examine the documents of the owner and take action as per the law."
Devender Pal Singh, the owner of the complex, denied that borewell is illegal. "We have submitted our reply to the departments concerned."
Close