Fans are freaking out about Iron Man cameo in Wreck-it Ralph 2 trailer
Did you spot the blink-and-you-miss-it Iron Man cameo in the new trailer for Ralph Breaks the Internet: Wreck-It Ralph 2? Check out some fans' ecstatic reactions at seeing their favourite superhero.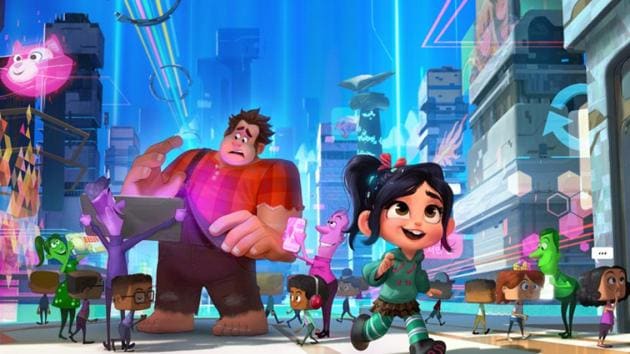 Updated on Jun 05, 2018 04:09 PM IST
The first trailer for Ralph Breaks the Internet: Wreck-It Ralph 2 puts up a solid challenge to Steven Spielberg's recent film Ready Player One as far as the pop-culture references go. The trailer celebrates all things Disney, and special attention has been given to the studio's roster of popular princesses, but one character's blink-and-you-miss-it cameo is exciting fans online.
Around the 1:20 mark in the trailer, Vanellope von Schweetz is having a chat with Eeyore when she's suddenly swept off her feet by what appears to be a rocket. But upon closer observation, it's clear that it is none other than Iron Man who had flown off with her.
The scene happens when Vanellope and Ralph arrive at the 'super-intense and really nuts' corner of the internet, which is the Disney website. In the background, we see entire sections dedicated to Disney properties such as Star Wars, Pixar, the Muppets and of course, Marvel, which basically looks like a shrine to Iron Man.
Between all the praise Disney is getting for the new 3D versions of some of their most popular princesses - everyone from Ariel to Moana makes a cameo - the Iron Man cameo was an especially fun easter egg for fans.
Here are some comments:
Ralph Breaks the Internet: Wreck-It Ralph 2 is a sequel to the hit 2012 film, Wreck-it Ralph. The new film will see Ralph and Vanellope get sucked into the internet through a WiFi router, where they must learn to understand the ways of a new world.
The film is scheduled for a November 21 release.
Follow @htshowbiz for more
Close Story