Yes, minister: Rijiju speaking his mind on eating beef has meat in it
It's not every day that you come across a Union minister taking a strong stand against his colleague's controversial remarks. And for that, minister of state for home affairs Kiren Rijiju has perhaps won many a heart.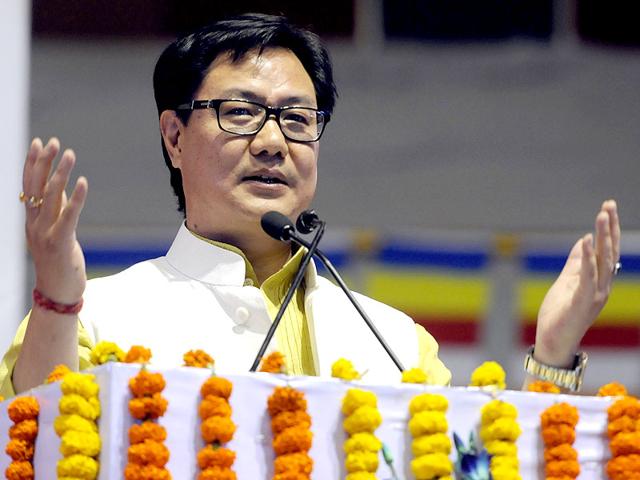 Updated on May 28, 2015 01:10 AM IST
Minister of State for Home Affairs Kiren Rijiju says he was "misquoted" in the media when he commented on a statement made by his ministerial colleague Mukhtar Abbas Naqvi on eating beef.
"India is a secular country and food habits cannot be stopped but the Hindu faith and sentiments must be respected in Hindu majority states in the same way as other communities have rights in their own dominant states," he said. Rijiju's clarification, however, has two crucial words: "secular country" and "food habits".
Naqvi, one of the most prominent Muslim faces of the ruling Bharatiya Janata Party (BJP), had said cow slaughter was an "issue of faith and belief" and sensitive for Hindus. "Those who are dying without eating beef, can go to Pakistan or Arab countries or any other part of world where it is available," he had remarked at a media conclave.
Rijiju was praised for speaking in defence of protecting the rights of marginal communities, while several other BJP leaders like Niranjan Jyoti and Yogi Adityanath have been criticised for spewing venom through their speeches.
At a time when shocking cases of people being denied jobs or asked to vacate homes for belonging to a certain religion have come to the fore, such a stand will definitely go a long way.
Rijiju, who belongs to the northeast where beef is a staple in the diet of several states with large Christian populations, was on Wednesday quoted by the Indian Express as saying, "I eat beef, I'm from Arunachal Pradesh, can somebody stop me? So let us not be touchy about somebody's practices."
The recent ban on eating or possessing beef in Maharashtra and Haryana, detractors have argued, is targeted at "harassing Muslims" and will fuel religious polarisation. The move was seen by many as an emboldening of Hindu-hardline policies.
Rijiju is absolutely right when he says, according to the Express report, that in "a multi-racial, multi-religious, multi-communal country", nothing can be forced on anybody's faith.
While Rijiju was explicit in talking about his apprehensions regarding a possible beef ban in the northeast, he didn't mention the issue is already affecting many in Maharashtra. For many, their traditional food has suddenly turned into something criminal.
Just like beef is a staple food for many in the northeast, so it is for some sections in Maharashtra, and a ban on it can be snatching away a meal on a modest budget for a number of people.
Apart from the argument that "no one can dictate what I eat", there is the case of the rights of communities for whom eating beef is a common practice, in contrast to the widely held Hindu belief against cow slaughter.
Mohammed Aqil Qureshi, president of the Buffalo Traders Welfare Association at Ghazipur in Uttar Pradesh, recently told the Associated Press, "They want to gratify the Hindus and harass the Muslims. This is poor people's food and is a key source of nutrition for millions of people."
Bombay Suburban Beef Dealers Welfare Association president Mohammed Ali Qureshi was quoted in the Hindustan Times as saying, "Mutton is priced at Rs 450 per kg, whereas beef is only Rs 160 per kg. Mutton and chicken prices may go up further because of the ban."
The beef ban in Maharashtra and Haryana is expected to have socio-economic repercussions.
Arguments for safeguarding the practices of northeast's tribal communities thus falls flat because the beef ban policies implemented by BJP-led state governments have been in stark contradiction to what he spoke about.
(The views expressed are personal. The writer tweets as @saha_abhi199)
Close Story
Personalise your news feed. Follow trending topics