India vs Pakistan: Virat Kohli not intimidated, won't be arrogant vs PAK in final
Jun 18, 2017 10:09 AM IST
Indian cricket team has won four of its last five ODI matches against Pakistan cricket team; including a 124-run victory during the group stage of the 2017 Champions Trophy in Birmingham.
Virat Kohli chose to play down the hype around an India vs Pakistan match saying his team will treat Sunday's Champions Trophy final just as another day in office.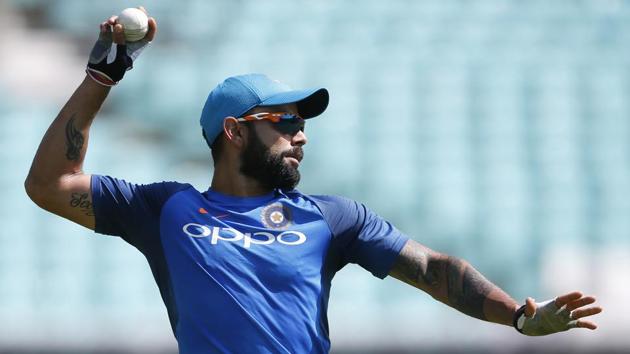 Kohli said the 2017 Champions Trophy, his first International Cricket Council event as captain, has taught him a few things and balance in life was one of them. Prolific in social media, Kohli said staying off Twitter et al has helped him focus better and become a better cricketer.
Kohli once again reiterated that India will look to play 'boring' cricket and not do anything special to invite pressure.
This will be the first time India and Pakistan will contest a Champions Trophy final and Kohli said expectations are bound to be sky high, but pressure is one thing his team has learnt to live with.
"You have to believe in yourself no matter what. You know, the ability to think otherwise in a difficult situation is something that sets you apart in that situation and actually pulls the team through," explained Kohli, clearly hinting that nerves will play a big part in the final at The Oval.
India's training on Saturday morning was reflection of a happy dressing room. The players joked and enjoyed the sun as they took their turn at nets.
Unlike Pakistan, who revealed that they have watched videos of Indian players and "dissected" the team, Kohli said preparation for a big game was a personal thing.
"It really depends on individuals, how they want to prepare against certain players in the opposition. I have never believed in watching too many videos of anyone. I prepare the best way I can ...I believe in my abilities and I don't take extra pressure."
Strictly looking ahead
Kohli said the 124-run win against Pakistan in Birmingham on June 4 was now irrelevant. Pakistan's incredible turnaround and their eight-wicket win against tournament favourites England in the semifinals have made confident India cautious for sure.
"Some teams start very confidently and then they fade off. Some teams might not have the best starts, and they come back amazingly, which Pakistan have done. So everyone is aware of the kind of talent they have in their team, and on their day they can beat any side in the world," said Kohli.
Pakistan's ability to produce impact players is nothing new. The way rookie players like left-arm seamer Rumman Raees and left-hand batsman Fakhar Zaman turned up in pressure games has been quite impressive.
"We're quite aware of that. But at the same time, neither are we too intimidated nor are we too arrogant about what we are doing. It's important to maintain the balance of being confident in your own skill and what you are doing as a team," said Kohli.
India will be the team under pressure and Kohli acknowledges that.
"It's been quite a few years I've been dealing with that, so nothing new. Honestly, you can't think of those things when you step on to the field."
That sums up India's arrogance ahead of a big final.