26/11 attacks anniversary: Mumbai's coastal police stations barely stay afloat
Updated on Nov 24, 2018 07:52 AM IST
26/11 Mumbai Attacks: Lack of quality infrastructure, muddled planning and lack of a clear mandate have jinxed the coastal police station network that was supposed to be the last line of defence against 26/11-style attacks in India's financial capital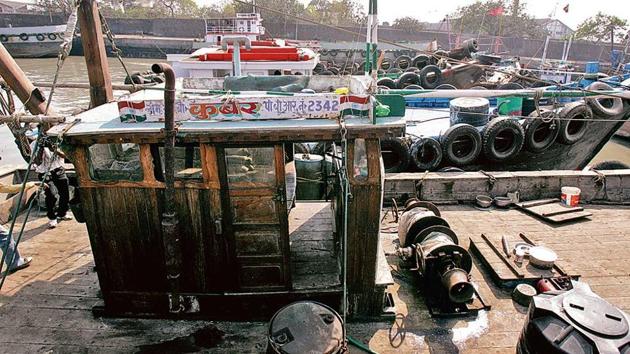 Located about eight kilometres from Aksa beach on Mumbai's northern fringe is a crumbling bungalow. Local people say the building has been haunted for decades by spirits that waft away from the crematorium and cemetery located across the road, known popularly as the 'haunted lane of Gorai'. Every evening, the roads empty out as soon as the sun goes down, courtesy a band of particularly unruly addicts who gather at the cemetery.
This bungalow is a crucial cog in India's counter-terrorism wheel; it houses Mumbai Sagari II, part of a network of three coastal police stations that are supposed to be the last line of defence in the event of another 26/11-like attack. But from the outside, it looks like anything but.
Mumbai Sagari II was set up in December 2015 but still operates out of a rented bungalow. When HT visited the premises on a Sunday, two policemen were sunning themselves outside the station. One of them, who refused to be named, pointed at a vehicle parked nearby.
"We were given this car recently but it has already travelled about two lakh kilometres. How are we to reach the coast on time with an overused car?" he asked. Another policeman pointed to an older patrol van parked next to it and said passersby sometimes alert policemen of parts of vehicles that have fallen off the chassis or are dangling dangerously from the vehicle.
The need for coastal police stations was felt urgently after the 26/11 attacks when the terrorists took the sea route to reach Mumbai and were able to dock at Badhwar Park without being intercepted. The coastal police stations were envisaged as the last line of defence, after the navy and the coast guard, and they were mandated to intercept any suspicious boat within a range of 12 nautical miles from the coast.
But top state police officials say on condition of anonymity that the three-tier security system is not feasible under current capacities and that the force is neither trained nor meant to patrol the seas, and should focus on law and order.
"The coastal police stations are important to keep an eye on the coastal area as Mumbai is surrounded by sea. In the last 10 years, the government has taken its best efforts to strengthen the coastal area with the establishing of the coastal police stations. Also, it is necessary to have fishery monitoring, control and surveillance," said SPS Basra, retired additional director general, Indian Coast Guard.
Also read: 'Life took 360 degree turn': Survivors relive 2008 Mumbai terror attacks
As of 2018, there are 50 police stations along the coast of Maharashtra and 70-odd boats of various types, including patrol boats and interceptors. "There are over 60 landing points where CCTVs have been installed in the past two years, which are being monitored by the Mumbai police," said Pravin Padwal, additional commissioner of police (port).
In Mumbai, the coastal police have three major police stations: Yellow Gate Mumbai, Sagari 1 (Mahim), and Sagari 2 (Gorai). The force has 12 speedboats to patrol the length of Mumbai's 114-kilometre-long coastline.
But there are chinks in the armour. The Sagari I police station, for example, operates out of eight cramped rooms on the ground floor of the Mahim police lines, where it has been since its inception in 2007. The construction of a permanent police station is underway at Reti-Bunder in Mahim but work stalled in 2015 after a petition alleged coastal zone regulation violation.
"We have recently started a beat chowki in Mahim area near the landing point, but it does not yet have a water supply. We were hoping the police station will be operational by December end but it seems it will take yet another year," said a Sagari I policeman, requesting not to be named.
In the compact cabin of the police station in-charge, a television that is more a relic of the 90s sits on the desk. A CCTV camera in the cabin faces downwards, limp. Of the three police vans available with this station, only two are used regularly, owing to a lack of staff. The station faces not the sea but a thick swamp of mangroves.
In Sagari I, the staff strength is currently 50 though the sanctioned strength is 750. Sagari II has a sanctioned strength of 300, an actual strength of 120 and at any given time, only 55 personnel are on duty.
Currently, the Sagari I policemen patrol areas stretching from Bandra to Cuffe Parade in south Mumbai. The remaining stretch – Bandra till Uttan in Bhayandar -- is patrolled by Sagari II personnel. Neither police station has executive powers and, therefore, sticks to patrolling.With three boats at each police station, policemen patrol for eight hours at a stretch and then change shifts.
But what these stations may lack in equipment, they appear to more than make up in spirit. Talking about the 26/11 attacks, a middle-aged policemen outside Sagari II station says, "We were not prepared then. But now we have rigorously trained and one man of ours will take hundreds of Kasabs."
Personalise your news feed. Follow trending topics