3 dead in blast at chemical plant near Mumbai: A look at India's worst industrial disasters
From Chasnala mining disaster to NTPC blast, a look at major industrial disasters in India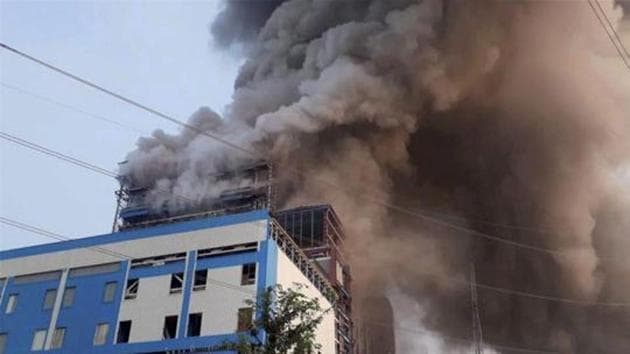 Updated on Mar 09, 2018 10:28 AM IST
At least three people were killed and more than 40 injured in a series of blasts and fire that ripped through a chemical plant of a pharmaceutical company in Maharashtra's Boisar in Palghar district late on Thursday.
According to preliminary reports, the blasts occurred in 25 drums containing 200 litres each of solvent at Novephene Specialities' plant in Boisar MIDC near Mumbai at around 11:15 pm.
Here are some of the worst industrial disasters from the past:
Maharashtra: Bombay docks explosion, 1944 (Official death toll: 800)
Two explosions shook the Victoria Dock of Mumbai (then Bombay) in April 1944, when a freighter carrying a cargo of gold, ammunition and other items caught fire. Ships in the area of the explosion sank after the impact.
Shortly after a fire was reported on board, at 3.50pm, an order to abandon ship was given. Minutes later, two explosions were reported. The two explosions were powerful enough to be recorded by seismographs at the Colaba Observatory in the city.
Jharkhand: Chasnala mining disaster, 1975 (Official death toll: 372)
In one of the India's worst mining disasters, 372 miners died in an explosion – followed by flooding – at the Chasnala coal mine of the Indian Iron and Steel Company (now SAIL) near Dhanbad.
According to the NIOH, the explosion was likely caused by sparks from equipment igniting a pocket of methane gas. "Even a small spark can ignite the surges of gas that may suddenly fill a mine. Clouds of coal dust raised by the explosion and accompanying shock wave contribute to these sorts of mine explosions, making the flames self-sustaining," the newsletter on major industrial disasters says.
Bhopal: Union Carbide gas tragedy, 1984 (Official death toll: 5,295)
In the early hours of December 3, 1984, around 40 tonne of methyl isocyanate gas leaked from a pesticide plant owned by US multinational Union Carbide Corp in Bhopal. The gas was carried by the wind into the surrounding slums .
Almost 33 years since the gas leak tragedy, there is no clarity on the number of dead and those affected, say activists who peg the death figures between 20,000 and 25,000 while the government lists 5,295 deaths.
The central government, in a curative petition filed in Supreme Court in 2010, had sought compensation for "5,295 deaths" and 5,27,894 affected from the US firm, now owned by Dow Chemicals.
According to a newsletter of the National Institute of Occupational Health (NIOH), most of the safety systems at the factory were not functioning and many valves and lines were in poor condition, according to an inspection in November 1984.
Chhattisgarh: Korba chimney collapse, 2009 (Official death toll: 45)
Forty-five people were killed when a chimney under construction at a power plant being built at the Bharat Aluminium Company (Balco) in Korba, 230 km from Chhattisgarh's Raipur.
The structure had reached a height of 240 metres when it collapsed on top of more than 100 workers. They had taken shelter from a thunderstorm when the accident happened.
Rajasthan: Jaipur oil depot fire, 2009 (Official death toll: 12)
A major fire engulfed an Indian Oil Corporation (IOC) depot in Jaipur, killing 12 people and injuring at least 130.
The fire began in a tank holding 8,000 kilolitres oil. The government newsletter says the blaze continued for more than a week. About half a million people were evacuated from the area after the accident. The accident took place when petrol was being transferred from the IOC's depot to a pipeline.
Uttar Pradesh: NTPC power plant explosion, 2017 (Official toll: 34)
A massive explosion ripped a boiler at the state-run power giant NTPC's Unchahar plant in Uttar Pradesh's Raebareli district on 1 November, in one of the worst industrial disasters in India.
"There was an explosion inside the boiler. After the coal burns it gets deposited and has to be cleared. The people who died were engaged in cleaning," an NTPC executive was quoted as saying.
Close Story